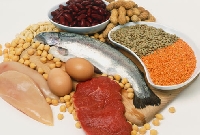 Benefits of protein are numerous, but individual dietary requirements are unique
Protein is a key component in diet, and the benefits of protein are numerous.  However, dietary protein requirements are unique to every individual.  It is important to keep this fact in mind when navigating the hyper-commercialized world of fad diets, high protein crazes, energy drinks and supplements. 
These days it seems that every gym, health food store, or online site wants to sell us on some miracle protein powder to enhance energy levels.  While there is no doubt regarding the benefits of protein, there is simply no one-size-fits-all answer to the protein question, and research on the topic is still emerging.  Factors such as gender, age, health and lifestyle have tremendous impact on individual protein requirements.
Protein is utilized by the human body for a variety of different reason.  Protein contains nitrogen, an important chemical essential for the production of antibodies.  Protein also serves as a building block for muscle and tissue production (a fact that leads many athletes and weightlifters toward high protein diets.)  Muscle and tissue are built up as the liver digests and breaks down proteins into amino acids.
Protein provides us with the essential amino acids (such as tryptophan, cysteine and lysine) that can not be found in our bodies, as well as nonessential amino acids (such as aspartic acid, glutamic acid and glycine) which are produced by our bodies as we break down the protein we ingest. 
The human body requires twenty distinct amino acids for the production of its own proteins.  However, the body can only make thirteen of these amino acids.  Thus the other seven amino acids must be obtained through food.
If a protein source supplies enough of the essential amino acids, it is called a complete protein.  (Meat, fish, dairy and eggs are examples of complete proteins.)  If the protein source does not supply all the essential amino acids, it is called an incomplete protein.  (Grains, nuts, fruit and vegetables are examples of low or incomplete proteins.)  There is also a small handful of plant protein sources that do provide all the essential amino acids, and are therefore considered complete proteins.
Is all protein healthy and desirable?  Not necessarily.  It's important to eat the right amount and the right kind of protein to get the health benefits of protein.  It is also important to understand the unique needs of our bodies.
The Institute of Medicine of the National Academy of Sciences has concluded that our daily protein requirements should be ten percent to thirty five percent of our total caloric intake, with men needing slightly more than women.  This is primarily due to the fact that on average, men have larger bodies and more muscle mass than women.
Women generally need to consume proteins with more iron, because women loose iron during their menstrual cycle.  Women, who are also more at risk for osteoporosis, may benefit from consuming proteins that are higher in calcium. Pregnant or nursing women may have an increased need for protein.  Athletes also need more protein than individuals with more sedentary lifestyles.  Particular types of protein are beneficial to children, who grow differently at different stages.  The types of protein needed by a four-year old child developing strong teeth and bones may be quite different from the protein needs of an adolescent body producing hormones.  Individuals recovering from trauma, diseases or surgery may also have an increased need for protein during these times to help their bodies heal.
Research suggests that the standard American's diet contains too much protein from animal sources, and not enough protein from plant-based sources such as beans, legumes, nuts, seeds and vegetables.  The primary problem with some animal proteins in the standard American's diet is that they are high in saturated fats.  Too much of these particular fats can lead to cholesterol problems, heart disease, cancer, intestinal disorders and kidney problems.
When choosing protein-rich foods, it is wise to pay close attention to what comes along with the protein.  Vegetable sources of protein such as beans, nuts and whole grains, are excellent choices, offering healthy fiber, vitamins and minerals.  The best animal protein choices are fish and poultry.  Although some red meat can be beneficial, leaner cuts and moderate portion sizes are recommended for those with concerns about fat or cholesterol intake. 
Having a hard time figuring out how to maximize the benefits of protein specific to your diet?  Here are some suggestions for healthy complete and incomplete proteins, along with a list of complete proteins from plant sources.  
Complete Proteins:

Beef

 (lean, grass-fed beef or bison is the healthiest choice, and an excellent source of zinc, iron and vitamin B12
Poultry (opt for white meat portions, in particular, the breast. Dark meat has twice the fat content
Seafood (seafood is one of the best sources of protein because it is usually low in fat. Fish such as salmon is a little higher in fat, but it is the heart healthy kind: omega-3 fatty acids
Yogurt, Milk, Cheese (not only are dairy foods excellent sources of protein but they also contain valuable calcium. Choose skim or low fat dairy to keep bones and teeth strong, prevent osteoporosis and enhance weight loss.
Eggs (one of the best and cheapest forms of protein, one egg contains six grams of protein. However eggs are high in cholesterol. The American Heart Association says normal healthy adults can safely enjoy one egg a day.)
*  Skip the processed meats such as bacon, hot dogs and deli meats have been linked to higher cancer risk, as they often contain more preservatives.
Incomplete Proteins:

Grains (wheat, rice, oats, barley, bulgar, cornmeal and pasta)
Legumes (kidney beans, black beans, pinto beans, navy beans, garbanzo beans, dried peas and lentils)
Nuts and Seeds (sunflower seeds, sesame seeds, pumpkin seeds, almond, cashews, hazelnuts, walnuts a pecans)
Some Fruits&Vegetables (bananas, figs, avocados, mushrooms, cherries)
Complete Proteins From Plant Sources:

Quinoa
Buckwheat
Hempseed
Soybeans