Getting a good fit in pants for big and tall men
By Catalogs Editorial Staff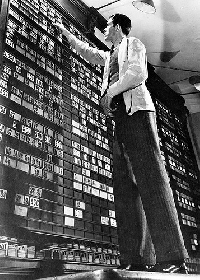 If you're a big and tall man, here's how to find pants that fit
The best fit in big and tall men's pants comes from a professional fitting. Custom ordering clothing to your exact specifications may be more expensive, but it definitely showcases the quality, well-groomed man beneath. The next best thing to tailored clothing is to order from a high quality clothier in your exact size specifications for big and tall pants fit.
Big and tall men or women have always had a harder time finding clothing to fit. Not everyone fits into the "X-Small, Small, Medium and Large" category that confines most clothing departments. However, the 1980s ushered in a host of specialty shops catering to unique sizes and unique tastes.
Before you continue reading about the Getting a good fit in pants for big and tall men there is a special announcement we would like to share with you. Catalogs.com has negotiated special medicare rates for our vibrant community of seniors. If you are over the age of 60, you can head over to our Seniors Health Section which is full of information about medicare. All you need is your zip code and a few minutes of your time to potentially save 100s of dollars on your medicare bills.
It is also possible to take your own measurements with a clothing tape measure, so you need never be in the dark about your true size. Knowledge is the key in getting a great big and tall pants fit! Wrap the tape measure around your waist where you want your pants to fall. Hold a finger below the tape to leave a little breathing room – you don't want your clothes too tight. Now write down the measurement. You can do the same for your inseam. Start at your ankle or where you want your pants to fall and then measure straight up to where you want the crotch to be. Get someone to help measure if necessary.
Tips for Big and Tall Men's Pants
To make matters worse, not every XX-Large fits the big and tall man the same, just like not every size 42 fits the same. One manufacturer may run smaller or longer, while yet another runs shorter and larger. Trying clothes on in a dressing room is a great benefit unless you custom order your exact size, and take along someone you trust to help you decide on the best fit. If you order online, remember to save packing material and labels, and to try on your purchase promptly. This makes returns and exchanges easy.
Do not try to compensate for pants that are too long by pulling them up higher at the waist. This just ruins the look you were trying to achieve in your big and tall pants fit. Instead, locate a local seamstress and have the hem shortened to your size.
~
Big and Tall Specialty Shops
The correct belt and other accessories can add dimensions of excellence to an outfit. The proper belt can take you from "too loose" and tacky to "just right" in a matter of seconds. Ties have historically been a problem area for big and tall men. Have you ever noticed that most ties appear to be made for people of average height? The best place to locate a tie for big and tall men is in a big and tall men's specialty shop.
In the big and tall men's specialty shop, you may also find correctly-proportioned clothing especially designed for men like yourself who were blessed with extra height and / or girth. Happily, most department stores today have a men's plus size clothing department. It may take a little longer to find the perfect fit, but it is well worth the sacrifice to look and feel your best.
Tips
Plus size clothing in the correct big and tall pants fit can make you look much slimmer than over-sized clothing. If you are looking for ways to slim down, here are a few:
Choose black or other dark colors such as grey for an elongated slim look.
Dress up any pants with a snazzy tie and shirt or the right accessories.
You actually look smaller in a suit that fits perfectly, rather than in one that is too tight. Tight clothing reveals bulges.
Tailored looks are almost always the most flattering, as opposed to huge tee shirts and sweat pants.
Choose

jeans

that are low riders or that go just under the belly button. High-waisted pants are a no-no on anybody, especially big and tall men.
Dress pants with pleats in front look best on men with big thighs or large torsos
Flat front dress pants look best on slim, tall men
Buy Basic Quality Clothing
Good quality is easy to recognize. Experts usually recommend shopping for a few basic, high-quality pieces, and then add to your wardrobe as you go along. Basics would include items such as a pair of tailored black trousers or one very good suit, a pair of casual jeans, a pair of dressy jeans, a pair of khaki pants and one pair of shorts that can take you hiking, fishing, golfing or sightseeing.
References:
Men's Dress Pants Buying Guide

Popular Savings Offers