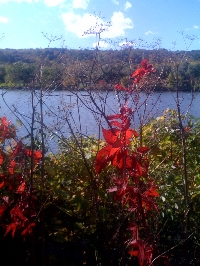 Best lakes, rivers, and destinations for boating water sports in Connecticut
Growing up in Connecticut's Farmington River Valley, I always looked forward to summertime, freedom, and the great outdoors.  This particular area of Connecticut is overflowing with great lakes and rivers perfect for a summer day of boating, water sports, hiking, picnicking and enjoying the sunshine. 
Some of my favorite summer activities include hiking, swimming, fishing, canoeing, kayaking, sailing, tubing, waterskiing and various other boating water sports. 
Here are some of the top destinations for outdoor activities and boating water sports in Connecticut:
As soon as fishing season opens, head for The Farmington River with your fishing gear and supplies!  The Farmington is one of the most popular trout streams along the East Coast.  It is fed by water from a reservoir above where the Farmington joins the Connecticut River.  Some of the best stretches of the river include sections in the towns of Collinsville, New Hartford and Riverton.  Don?t be surprised to catch Rainbow and Brown Trout larger than 18 inches!
Candlewood Lake is another great summertime spot for fishing, as well as sailing, waterskiing and various other boating water sports.  Stretching nearly twelve miles in length and encompassing 5420 acres with over sixty miles of shoreline, Candlewood is the largest lake in the state of Connecticut.  The average depth of Candlewood Lake is 30 feet, and the maximum depth is 85 feet.  All kinds of boats, from speed boats to catamarans to jet skis can be found on the lake in summer.  The Lattin's Cove boat launch is the only public access boat launch to Candlewood Lake.  It has parking to accommodate 150 cars and a launching ramp that provides lake access for up to three boat trailers at a time.  Lattin?s Cove is located at the south end of the lake in Danbury.
~
Lake Lillinonah is similar to Candlewood Lake and it is the second largest lake in the state of Connecticut.  Lake Lillinonah is located between the boundaries of Bridgewater, Brookfield, New Milford, Newtown, Roxbury and Southbury, with its headwaters being the Housatonic River in New Milford.  The lake was formed in 1955 by Connecticut Light and Power for hydroelectricity.  Today, the lake ranks as one of Connecticut?s premier fishing lakes with excellent Bass fishing. The Connecticut state record for Northern Pike was also caught in Lake Lillinonah.  Lake Lillinonah also boasts another very unique attraction ? Bald Eagles!  The wooded shoreline of Lake Lillinonah is the winter home to as many as 40 Bald Eagles.  The eagles have discovered that the tailrace below the Shepaug Dan is a good source for fish and feed here from November to March. 
The Housatonic River in Northwestern Connecticut is ideal for canoeing or kayaking.  Paddle the one section in particular, a beautiful ten mile stretch from the towns of Falls Village to West Cornwall that offers scenic views of the stunning waterfalls in Fall?s Village and the Historic Covered Bridge in West Cornwall.  There are plenty of idyllic picnic spots along the river. 
River Tubing down The Farmington River is an ideal family activity for a summer day.  Satan?s Kingdom is the name of a tubing company located on the Farmington River in the town of New Hartford.  Satan?s Kingdom Farmington River Tubing offers a 2.5 mile ride, in specially designed river tubes down the wild and scenic Farmington River.  The stretch of river is generally calm and picturesque, but there are some shallow rapids.  This is a great way to cool down on a summer day!  
Scenically, few bodies of water in Connecticut can rival the splendor of Lake Waramaug, in located in the towns of Kent, Warren, and Washington in Litchfield County.  In Indian summer, and in the fall, when foliage of Connecticut?s Litchfield Hills draws sightseers, this small lake becomes quite popular for boaters, hikers and campers.  The Hopkins Inn and Hopkins Vineyard overlooking Lake Waramaug are award winning destinations as well.  There is no better way to enjoy an autumn afternoon than over a glass of wine in the Hopkins Vineyard Tasting Room, while overlooking the fall foliage of Lake Waramaug.
Last but certainly not least, West Hill Lake in New Hartford and Winsted is a small gem of a lake.  West Hill is a spring fed lake, and thus the clearest and cleanest lake in Connecticut.  It can also get quite cold after about the 15 foot mark.  West Hill is a terrific fishing spot for trout, pickerel and Bass.  Power boats are not permitted on West Hill Lake, thus it is an ideal quiet, and peaceful location for avid kayakers, sailboats and canoes.