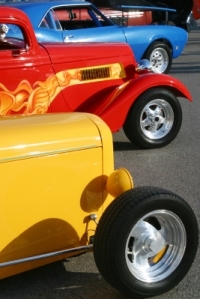 What exactly is a rat rod, and why would you want one?
Everyone sees a really sweet hot rod from time to time. A hot rod is a car that started as a "regular" car from the 1930s to 1950s and was modified with loud pipes, big wheels, ubiquitous flames and usually lots of chrome to become something altogether different?a pavement-ripping, flame-spurting, rootin' tootin', rip-roaring hunk of screaming metal and rubber. They may only get five miles to the gallon, but they're a lot of fun and they're not meant for everyday driving.
Defining a Rat Rod
Most everyone has also seen these cars in mid-restoration. Not as "fancy," often with bumpers and hoods missing and grey and brown patches of primer showing rather than a nice, glossy finished paint job complete with those flames.
What most people don't know is that those unfinished cars really are finished. They're called "rat rods." A rat rod is to hot rods what dirty, torn jeans and faded T-shirt wearing grunge bands of the early 90s were to the glitzy, over-the-top glam-rock bands of the 80s: an intentional slap in the face to those fancy, overly glitzy and usually unattainable hot rods.
On a rat rod, those missing parts are supposed to be missing. The patches of primer on the doors and any remaining bumpers are not only acceptable, but may have been put there intentionally. The whole idea of the rat rod is to look, well?ratty.
I'll tell you, building rat rod can be just about as challenging as building a "finished" hot rod, and it probably won't get the stares that the flashy candy apple red rod with the bright blue and white flames will, but that's really the point.
Just as Kurt Cobain felt stupid and contagious being stared at and really just wanted to do his thing and be left alone, the builder of a rat rod is not looking to take home a trophy from a car show. They're looking to have a fun car that they can drive every day and maybe just a chance to thumb their nose up at "the establishment" of the beautiful.
~
Building a Rat Rod
When building rat rod, you need to keep in mind that you're trying to look bad, in a manner of speaking. You'll want a car with huge areas of rust-colored panels (but not rust holes), primer (hopefully of more than one color) and plain wheels, rather than the fancy expensive-looking wheels on a typical hot rod.
You probably won't have a hood, and will most likely also be missing quarter panels or bumpers. Sheet metal held on with rivets is an added bonus, if you really want that "just thrown together from the junk yard" look.  Sometimes, especially with 20's and 30's era cars, a few bullet holes in the side (real ones, not those cheesy stickers) is an especially nice touch.
Another thing to keep in mind, however, is that no matter how ratty these cars look, safety is every bit as important as with the classically finished rods. In fact, since these cars are intended as daily drivers, this is necessary even more so. No critical auto parts should have rust, seats and seatbelts should be in excellent working order, and all mechanical and electrical parts should be in perfect working order.
Now that you have the basics down, head out to those Kansas farms and see if you can't find your future rat rod sitting in a wheat field!