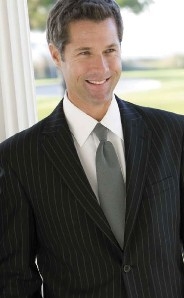 When in business, dress for success with professional attire
Today's business world is diverse, and there is a wide variety of office clothing styles that are acceptable. Because of this, many recent college graduates faced with the job search process are unsure of what they should wear to interviews or meetings with recruiters. If you are wondering what to wear to an interview, you should always assume that business professional attire is the appropriate dress. Business professional attire means dress shirts, suits and ties. Once you have a job and can observe the way your business associates dress, you may be able to tone down your professional attire to something more casual and comfortable.
Business professional attire for men
For men, the most important component of professional wear is the conservative business suit. The suit needs to be a dark solid or pinstripe, preferably navy, dark brown, gray or charcoal. The pants should be hemmed to the top of the heel at the back of the shoe.
Your suits should always be paired with dress shirts, like men's English dress shirts, in cotton or cotton blend. The shirts should be solid white or pale blue. Avoid two-tone shirts that have a different color collar than the rest of the shirt.
Keep your ties conservative and medium-width. Avoid extra-wide ties, or thin, narrow ties. Holiday or novelty ties are not appropriate for office wear. Any pattern in your business ties should be soft and conservative, and the colors should match or softly contrast the suit color.
Business socks should be calf-high and a solid color. The color should match the color of your suit pants, not the color of your shoes. Black or dark brown men's dress shoes should be worn with the suit. The shoes can be loafer style or lace-up, as long as they are conservative and well shined.
Your own appearance is as important as the appearance of your attire. Make sure you are well groomed, showered, and shaved. Your haircut should be conservative ? no dreadlocks or ponytails. And no matter what you wear in your personal time, all earrings and visible piercings should be removed for work attire.
~
Business professional attire for women
Business wear for women is very similar to what men are expected to wear. Wear a women's business suit in a dark color like navy, charcoal, black, dark brown, or gray. Your skirt should match your suit jacket. The skirt should be hemmed at mid-knee or below; avoid mini-skirts or skirts with deep slits at the front, back, or sides.
Women's dress shirts should be solid white or soft pastels. Keep in mind that office attire is conservative, and so avoid shirts that are low-cut, sheer, or revealing. You can leave your shirt plain, or accessorize with a softly colored scarf.
You should always wear full-length pantyhose with a business suit. These should be sheer nylon, not opaque tights. Natural color is best, but gray, off-black, navy, and taupe can also be appropriate as long as they are sheer and not solid like tights. For business shoes, women should wear low or medium-high pumps with a closed toe and heel. The shoes should be solid colored or have a soft grained pattern, and the color should match the color of the suit: black, navy, charcoal, gray, or dark brown.
For women's professional attire, the less accessories, the better. Earrings should be unobtrusive, stud-type or small hoops, and not dangly. All jewelry should be conservative and enhance your suit, and should not be distracting or ostentatious. Makeup should be understated and not garish. Remember that you want to look professional, and a nighttime look is not appropriate for the office. Your hair should be well-groomed and neat.
When you are interviewing for a new job, keep in mind that you can't undo a first impression. If you dress like a competent professional, you will have a much better chance at getting the position.