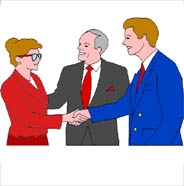 No matter what your career choice or job status, keeping your resume current is
It's not secret that the economy is scary right now.  For most of us, this is the worst off the United States has ever been.  For this reason alone, it behooves you to make sure your resume is in order.  No matter how secure you feel in your job, no job is 100% safe right now.  You need to keep your career resume completely up to date, just in case.

You also need to use the right paper.  Never use plain copier paper for a professional resume.  If it gets looked at at all, it certainly won't be given much weight against all of the resumes that are on nicer paper.

Why do it now?
Even if you love your job so much that you wouldn't take a better offer if one came along (and let's face it, how many of us does this really describe?) you still need to protect yourself by keeping your resume ready to go at all times.
The very last thing you want to do is update a resume at the last minute when you need it.  This leads to mistakes.  Rushing or feeling like you have to get it done quickly is exactly how little things are missed.  And it's those little things that can mean the difference in getting the job or not.
Have it reviewed
No matter how good you are with the written language, never, ever assume that you have everything correct.  Even the best will sometimes breeze over a mistake over and over, because they know what they're expecting to read and their mind sees that, rather than the mistake on the page.  You always need to have someone else read your resume for mistakes.  Two other people if possible.
I recently read a Private Placement Memorandum for a company.  Many of the parts in this document had been used over and over for years by many companies and it had already been read by several others before it came to my desk.  Nevertheless, even though this was a group of highly talented professionals, I caught no less than 10 mistakes in this 38 page document.  In all the years that they had been using a template to create these documents for other companies, no one had ever caught these mistakes before.
You can never be too careful in getting your resume
just right
.
~
Keep different versions ready to go
In my adult life, I've been a computer professional, a writer, a graphics professional and a filmmaker.  I always keep a separate career resume targeting each of these different career tracks.  That way, no matter what kind of job I'm seeking, I will always have a resume that's tweaked specifically for that career.
In previous jobs and education listed, each resume brings out certain aspects relevant to that career and downplays or eliminates irrelevant aspects.  A resume targeting a writing position is not suitable for a resume that targets website design or television production.  It's suitable only for writing.  Make sure you have the right resume for the right job.
Don't ever lie in a resume, but you do need to make yourself sound good.  If you've ever been responsible for any kind of project, make sure you reflect that in the resume, pointing out your team leadership and project leadership experience.  You should also take the time to volunteer for such opportunities at your current workplace, not only to make yourself look good at work, but to beef up your resume for later use.
As mentioned at the beginning of the article, times are tough right now, so everyone else is just as in danger of losing their jobs as you are.  That means competition for any available position will be fierce.  To compete, you have to be perfect.
Not only does your resume have to sparkle, you do as well.  Practice being interviewed with someone.  Have them ask some expected questions that you give them, so you can practice your answers, but also allow them to ask you unexpected questions of their own so you learn how to deal with the unexpected.
Dress for success
and make sure that your outfit is just as perfect as your resume.  To compete in the current environment, everything needs to be just right.  In the end even if everything is perfect, it's still all down to the career resume.