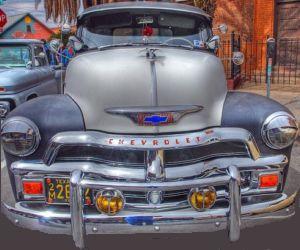 Ideas on restoring Chevy trucks
Summer, Winter, Spring, or Fall?it really does not matter the season, the month, or the day, Chevy truck restoration is exciting, no matter what. These classy automobiles have long been on the cutting edge of transportation– American style.
For many, restoring Chevy trucks has become a booming hobby, a livelihood, a beautiful art form, and a joyful lifestyle addition. There are a lot of different ways to beautify the exterior and beef up the engines of these vehicles, while increasing speed and adding value in the process.
Follow these tried-and-true professional Chevy truck restoration tips and ideas on how to restore Chevy trucks and turn heads once your vintage vehicle is fully restored. You will undoubtedly be ready to show off on the ride home with your new attraction.
Getting Started with Chevy Truck Restoration:
Since 1918 when the very first Chevy truck, the Model 490 Light Delivery, hit the seller?s market, notions of further beautification and overall enhancement have been on the minds of enthusiasts worldwide. This still rings true today as people continue to seek out ways to restore these vintage vehicles.
How to get started with the restorative process a primary point of interest. A great place to begin this process is with the truck?s exterior.
~
Remove Rust in Chevy Truck Restoration:
Water, age, chipped paint, and exposure may cause rust to build up on vintage Chevy trucks. Removing this rust in the beginning stages of restoring both the interior and exterior of the automobile is a great place to begin restoring your Chevy truck.
Purchasing a professional rust remover solution is an effective method of safely accomplishing this without damaging the vehicle. Using sand paper or a soft wire brush assists in this procedure.
It is important to make sure that all rust is eliminated from the entire truck, including the body, engine, and the bed.
Cleaning and Upgrading the Engine and other Internal Parts during Chevy Truck Restoration:
One of the best things you can do when restoring a Chevy truck is to clean and/ or upgrade the engine and engine-related parts. Installing a new, updated engine increases the speed, endurance, and look of the truck, while contributing to its longevity, productivity, and fuel efficiency.
Getting the battery, thermostat, fuel pump, electrical systems, and transmission checked out are also good to do when restoring a Chevy truck, in case they need to be cleaned, repaired, or replaced.

Body Repair and Restoration of Chevy Trucks:
The exterior of a Chevy truck can be greatly enhanced. When it comes to restoring the body of a Chevy truck, there are lots of choices available. Perhaps one of the more instant ones is getting a professional, customized paint job. This is always a plus.
Choose your favorite color. Take it a step further by adding designs to the body?s paint job.
Replace old body panels with new ones for that extra special look and feel. Other ways of Chevy truck restoration include upgrading the automobile with the following new upgrades:
Floor pans
Tailgates
Hoods
Fenders
Door Skins
Grille Supports
Running Boards
Front Bed Panels
Bed Wood Kits
Exterior Trim
Chrome and Plating
Interior Restoration of Chevy Trucks:
Restoring the interior of a Chevy truck can be very beneficial and rewarding. Here are some ideas on making these upgrades:
Reupholster Interior Fabric.
Replace Safety Belts with Seatbelt Kits.
Replace Carpet.
Upgrade Audio Equipment.
There are many ways to restore a Chevy truck. Finding the perfect accessories, parts, and ideas for your particular vintage job can take time. Attending car and truck shows, museums, shopping online, and going to swap meets or salvage yards are great ways to acquire parts for your project.

References:
Stovebolt Tech Tip — Antique Chevy / GMC Truck Restoration Help
Collector Car Restoration – 1966 Chevy Truck