How to choose a home daycare
By Catalogs Editorial Staff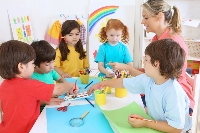 Is home daycare right for your child? Tips and helpful resources for parents
Researching, visiting and selecting childcare or
daycare facilities
for a child can be one of the most overwhelming and anxiety producing tasks any parent can face. Child care options range from state funded programs such as Head Start, to franchised centers, in-home nanny care, and home daycare centers. Of course, some parents also have the option of leaving their children in the care of friends or family members during the hours they are working.  
Recently, home daycare has gained popularity because it offers children a safe, secure, home-like environment. Running home day care facilities has also become a practical business decision for mothers or women who prefer to stay at home, and who are deeply passionate about caring for children. Home day care is a business opportunity enabling these women to contribute to family finances.
If you are a parent considering whether to choose a home daycare facility for your child, it is vital to evaluate all the pros and cons. While home daycare can be one of the best options for nurturing young children, it can also have significant drawbacks. Before you choose a home daycare, familiarize yourself with these helpful tips and suggestions.
Before you continue reading about the How to choose a home daycare there is a special announcement we would like to share with you. Catalogs.com has negotiated special medicare rates for our vibrant community of seniors. If you are over the age of 60, you can head over to our Seniors Health Section which is full of information about medicare. All you need is your zip code and a few minutes of your time to potentially save 100s of dollars on your medicare bills.
~
How to Choose a Home Daycare Facility:  Tips, Recommendations and Key Issues for Parents to Consider
1.   As you begin the process of researching home daycare options in your local area, make a point of asking other neighborhood parents, coworkers or trusted friends. Listen carefully to their recommendations, feedback and suggestions.
2.   Once you have identified a home daycare facility you are interested in, schedule a time to visit and tour the facility with your child. Take the time to observe activities suited to your child's age, and gauge your child's comfort level. Bring along a list of questions, and don't be nervous about discussing any concerns or special needs with the provider. You and your child with both feel more comfortable if all your questions have been answered.
3.   The American Academy of Pediatrics and the National Association for the Education of Young Children (NAEYC) both recommend that the home daycare facilities have proper licensing and regular inspections. Ask to see the license and recent inspection certificates. 
Voluntary accreditation with other organizations such as the National Association for Family Child Care (NAFCC) is typically a good indication that the center is committed to providing high quality care and participating in ongoing child development programs.
4.   It is vital for home daycare providers and caregivers to have training in CPR and early childhood development. Don't be afraid to ask to see CPR certifications and educational information on the background and training of the caregivers. Some parents may wish to take further safety precautions by conducting criminal background checks on a potential child care provider.
5.   One of the major drawbacks of home daycare centers is that they often have little or no back up if a provider gets sick. Ask about the facilities policies or alternative arrangements on the occasion that a provider gets ill. 
Inquire about the daycare schedule for holidays, etc. to ensure that you won't need to change your own work schedule at the last minute. Also be sure to ask about the facilities policy on caring for sick children. It is wise to be well prepared for scheduling changes that can easily occur if your child gets a cold or the flu.
6.   The topic of child discipline is another key issue for parents to broach with any child care provider. If you do not agree with the daycare provider's policy for discipline, it is best to cross the facility off your list and continue your search to choose a home daycare.
7.   In addition to discipline policies, it is important for parents to feel comfortable with a daycare center's religious, cultural and ethnic affiliation, policies regarding age grouping, and daily routine/scheduling.  
8.   If the daycare center offers an outdoor playground or play area, inspect the playground equipment to ensure it is safe, and sturdy. Inquire as to the age of daycare playground equipment and ask whether it is regularly inspected. Make sure that a daycare provider or staff member is always on hand to supervise children on any playground equipment.
9.   Ask about the teacher/provider to child ratio in the daycare facility. The American Academy of Pediatrics recommends a child to staff ratio of 2:1 for infants, 3:1 for toddlers and 4:1 for preschool aged children. The group size, along with age range of children in the group are other important elements to consider.
10.   Of course, cost and location are some of the primary deciding factors for parents who choose a home day care facility. Make certain that you are fully aware of all costs/fees/expenses associated with a particular daycare facility. 
While it is vital to consider what a daycare can offer to your child, it is important that the location of a daycare compliment your work schedule and family routine. Traveling excessive distances to a daycare facility, or having to rush to balance schedules will add undue stress to your lifestyle and will complicate your child's routine.  
Ultimately, home daycare can be a wonderful experience for children, as it can help them to adapt to a structured schedule, engage and socially interact with other children, develop new play and learning styles, and can offer nurturing, individualized attention. By taking the time to research, visit and choose a home daycare, and ask the right questions, parents can feel confident in their decision to select a facility that best suits their child's unique needs.
Popular Savings Offers