Choosing a digital slr
By Catalogs Editorial Staff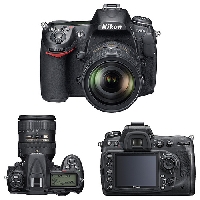 When choosing a digital slr camera there are photographic options to consider
When choosing a
Digital SLR

camera
, a newcomer may be cowed by the sheer amount of choices, features, and models made by a whole slew of different manufacturers. From
Canon
to Fuji — Olympus to Panasonic — there's a wealth of options available.
With assistance from writer Bob Atkins and Consumer Reports, we'll delve into the best types of features to look for in a camera. Read on!
Lens Compatibility Factors
Before you continue reading about the Choosing a digital slr there is a special announcement we would like to share with you. Catalogs.com has negotiated special medicare rates for our vibrant community of seniors. If you are over the age of 60, you can head over to our Seniors Health Section which is full of information about medicare. All you need is your zip code and a few minutes of your time to potentially save 100s of dollars on your medicare bills.
Over at Photo.net, Bob Atkins offers insights for those interested in the field of photography. He is a former PhD in Chemistry, as well as the technical editor for Photo.net.
With the qualifications comes great insight. According to Atkins, Canon, Nikon, Pentax, and Sony offer cameras which are compatible with their auto-focus film based SLRs. Thus, if you already own lenses, you may be interested looking into models in which you will be able to attach those lenses to your newly purchased camera.
You should look for systems which have good compatibility with older lenses, if this type of thing is important to you. Some new systems, though, will require adapters to successfully attach lenses to them.  
System Expandability and Price
For those who are experienced photographers or are commited to becoming a top-rate photographer, and are looking to add on exotic lenses or high performance camera bodies, the issue of expandability will be important to you. For that, Atkins says one should go with either Canon or Nikon; for those looking to pursue photography as more than just a hobby, these can be the best options available.
~
Now, with this being said, if you're an amateur who isn't too interested in moving ahead with new modifications and/or different lens types, then the need to expand won't be necessary. For you, price may be a consideration, with prices running the gamut from around $400 up to $8,000 for newer models.
In most circumstances, though, photographers will spend more on the lenses than on the camera itself. So it's a good plan to try and balance the budget between lenses and body while looking for a camera that fits in your price range.
Size and Weight
For those looking to cut costs, smaller cameras will normally go for less cash. If size and weight are important factors, Atkins suggests potential cameras from Olympus, Nikon, and Canon.
Now the difference in size and weight may not make or break a purchase if you're already carrying around a camera bag for your supplies like photo backup sticks, tripods and lens cleaners. So, keep that in mind when thinking about size and weight factors.
For some of the best options around, head over to the Consumer Reports site to get an overview of their best models.
Other Features
Atkins takes a good, long look at format size: full frame, APS-H, APS-C, and Four-Thirds. For amateurs, he makes a case for the APS-C and Four-Thirds. But, he states that it's a hard thing to figure which of these aforementioned formats are actually the "best." For more information from Atkins, head over to Atkins' 2003 article, Size Matters.
To say he offers a wealth of information on the overall subject matter may be the understatement of the year. He goes on to cover image stabilization, pixel count, ISO settings, noise, metering, auto-focus, capture rate, live view, video, viewfinder size, flash systems, and more.
It happens to be one of the best places to find anything (and everything) you've ever wanted to know about DSLRs. And we mean everything.
Like computers, cameras evolve at a fast rate, so the top-of-the-line item you're looking at today may be at the back of the line by next month. When choosing a Digital SLR, check out reviews online, talk with friends who've used specific brands, and/or simply head over to Consumer Reports to find the best reviewed models out there. Your perfect camera is waiting.
Resources:
Consumerreports.org: Digital SLRs.
Photo.net: Factors to Consider when Choosing a Digital SLR Camera.
 
Above photo attributed to armno_old
Popular Savings Offers