Choosing the best shoes for nursing
By Catalogs Editorial Staff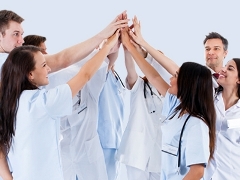 Choosing the best shoes for nursing is crucial to your overall health on the job
A nurse appears to be an angel for the sick and injured in the hospital or other medical facilities. They are focused on the individuals, their families and within the community to ensure ideal health and quality of life. The plan of care provided by a nurse works in collaboration with doctors, therapists, and other medical professionals. They also have a great rapport with families of patients and other team members with one goal in mind, to prove the patients? health and well-being. Since you are on your feet from the moment you are on the job until time to go home, be sure you choose the best shoes for nursing.
The typical shift for a nurse is ten to 12 hours, which can take a toll on your feet. Reliable, comfortable shoes are essential for a job that keeps you on your feet 90 percent of the time. There are various qualities to consider when shopping for a great and comfortable pair of nursing shoes.
What to consider when shopping for nursing shoes
Before you continue reading about the Choosing the best shoes for nursing there is a special announcement we would like to share with you. Catalogs.com has negotiated special medicare rates for our vibrant community of seniors. If you are over the age of 60, you can head over to our Seniors Health Section which is full of information about medicare. All you need is your zip code and a few minutes of your time to potentially save 100s of dollars on your medicare bills.
As a consumer shopping for shoes, you will be looking for style, design, and fashion. You must also look for durability of the shoes, material construction, and the sole. Making the right choice of footwear can make the difference between agony and comfort. Your job entails a lot of concentration when caring for your patients and should not be deterred by aching, sore feet. Take into consideration:
A great support system for the ankles, arches and other stress areas
Opt for shoes without special fasteners or ties that may require regular adjustment
Choose shoes with non-slip soles to avoid slippery falls
Shoes should be easy to clean and maintain
Make a decision for a good fit that could accommodate orthopedic padded insoles or thick socks
Memory foam is an excellent option if you have foot issues, are heavier or pregnant
High heels and platform shoes should be avoided
~
Features of a Functional Working Shoe
As a nurse, your feet take a beating on a daily basis. It is crucial to choose the best shoes for nursing. Just trying on shoes won?t help you to find the best shoes for your professional position. Features to look for in a comfortable nursing shoe are:
Flexibility ? The shoes need to have a flexible fit to cope with the dynamics of your job. Choose a shoe that is lighter rather than a heavy shoe. A flexible shoe is more adaptable to your feet?s movement and constant requirements of your fast-paced position.
Comfort ? Comfort of your shoe is an individual thing. What your friend recommends may not work in the same manner for you. Determine the specific needs of your own feet, such as wide feet, flat arches, plantar fasciitis or any other foot condition. Shoes need to contour to the shape of your feet for ultimate comfort, with cushioning in the heel. Shoes without proper comfort will not only affect your feet but also your hips and backs when standing and working on your feet for long periods. Comfort in a shoe will also provide good ventilation for your feet.
Quality ? Choose shoes that are made of durable, higher-quality materials such as genuine leather. Leather provides durability, flexibility, softness and comfort. As the saying goes, you get what you pay for in a good quality nursing shoe.
Functionality ? With your heavy, hectic schedule, ensure the shoe you purchase is functional and meets all the needs of your position. This means finding a shoe that meets all of the above for maximum mobility.
Fit ? Not every brand of shoe fits the same. Be sure the option you choose fits well and you can try them out prior to wearing them for work. Can your foot breathe in the shoe and you can wiggle your toes during wear? Did you allow for the addition of special orthopedic insoles, interchangeable arch supports or thick socks? These are all things to consider in a comfortable nursing shoe.
Many nurses might opt for a cheaper, less
practical nursing shoe
but the outcome will prove to be long-term pain and discomfort. A shoe that has all the qualities mentioned will reward your feet after a long day on the job. The benefits help to prevent pain in the heel, ankle, legs, knees, hips and back.
All components and features of the best nursing shoe are critical for long-term comfort. Each feature plays a different role and function when it comes to preventing tired, achy feet. As an educated consumer, you know what is essential in choosing the best nursing shoe. Invest in the best and reap the benefits.
Popular Savings Offers