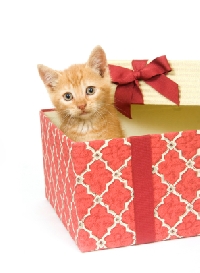 Hasn't your cat been good this year?
Christmas is coming. If you have a cat you'll want to get something special for them too. They are, after all, a member of the family also. There are many things that you can get your kitty that they will purr with delight over. Here are some great ideas to get you started when thinking about Christmas gift ideas for cats.
Christmas Stockings
This is a fun idea since many of the larger pet stores carry pet Christmas stockings that are perfect for your cat. Some are already filled with items and others are empty. This is great if your family lines up your Christmas stockings on the mantel; you'll want to be sure to include your furry friend.
Many of these stockings you can even have personalized. The stockings that are filled come full of cat toys, cat nip and cat treats. These are also great items to consider filling your cat's Christmas stocking with if you buy one that is empty.
Kitty Grass
This is great especially for indoor cats. It is very easy to grow. Kitty grass comes in a kit that includes grass seeds and a container to grow them in. All cats like to chew on grass or plants for their health. Giving your cat some healthy grass to chew on can be very helpful for them. The kitty grass tends to grow fast.
~
Catnip
There are so many ways you can give your cat catnip. You can give your cat toys that have catnip in them. You can give your cat a plant of the catnip plant. Remember that if you get a catnip plant, in some areas of the country you can plant this outside.
Whether you have this inside or outside your cat is going to rub, rub and rub up against this over and over again because they like it so much. So don't be surprised if the plant looks a little squashed. Catnip can make some cats act a little silly and other cats it will simply relax them. Every cat is different. This is a consideration when thinking about Christmas gift ideas for cats.
Cat Toys 
Whether your cat is an indoor or an outdoor cat, they can always do nicely with some new cat toys. Some cats like soft toys they can chew on. Other cats like toys they can bat around the room. Other cats like toys they can make squeaky noises. The best way to discover what type of cat toy your cat likes the most is to buy them a variety of toys and then to notice which toy they play with the most frequently. Then you'll know for the next time.
Kitty Condos
These are very popular, and cats really love them. Kitty condos are carpeted and cats can climb them and knead their claws on them. These are especially nice for cats that are indoors to help them enjoy climbing and exploring. Kitty condos come in many sizes from some that will take up an entire wall to others that are only several feet tall.