How to collect diecast military soldiers
By Catalogs Editorial Staff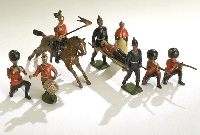 Collecting diecast military soldiers is a hobby and a passion for many
It is nearly impossible to ascertain exactly when the first
military figurines and toy soldiers
first appeared — way before people started collecting diecast military soldiers.
Tiny military figures, soldiers, horses, and other miniature artifacts carved from stone, bone, made of clay or other precious metals have been discovered by archeologists excavating historic Egyptian tombs, as well as ancient roman burial sites and temples. Clearly, these figurines have served as children's toys and as treasured mementos for people of all ages for thousands of years.
The first written references to miniature military soldiers are found in ancient documents and military strategies composed during the Napoleonic era. Military strategists used these miniature soldiers to plan battle tactics and keep track of where real troops were positioned upon a map.
Before you continue reading about the How to collect diecast military soldiers there is a special announcement we would like to share with you. Catalogs.com has negotiated special medicare rates for our vibrant community of seniors. If you are over the age of 60, you can head over to our Seniors Health Section which is full of information about medicare. All you need is your zip code and a few minutes of your time to potentially save 100s of dollars on your medicare bills.
In the early 1800's a Paris-based toy company named Mignot first experimented with producing miniature toy soldiers made from solid lead. These elegant miniatures were finely painted with precise details. Although these toys were highly sought after, they were very expensive, difficult to produce, and ultimately did not find a footing in the global market. Nonetheless, these rare, antique Mignot sets have become highly prized and immensely valuable collectors items.
However, it wasn't until the late 1800's that diecast military soldiers – along with diecast military vehicles and other accessories – became popular, and mass produced toys and collectibles. In 1893, a British toy manufacturer named William Britain invented an economical system for mass producing toy soldiers. This system, known as hollow casting or diecasting, rose to become the industry standard, and the W. Britain brand name held the world wide monopoly on sales of military toy soldiers to fans of collecting diecast military soldiers.  
These early W. Britain soldiers were made of lead, but hollow in the center and thus lighter weight. Meticulously painted, and etched with the details of uniforms, insignias, and time period hair styles. These toy soldier were 54 mm (2.25 inches) tall, in other words, sized to a 1:32 scale.  Examples of these early toys include Medieval knights, Vikings, Roman Chariots, WWI soldiers.
~
By the time World War II arrived, diecast soldiers had taken hold as one of the most popular collectible trends in America. School children learned about collecting diecast military soldiers and sought out miniatures of American soldiers, German soldiers, D-Day landing crafts, airplanes, and more. Equally popular were historic soldiers such as Gettysburg and civil war era replicas, Foreign Legionnaires (Arabs of the Dessert) wild west characters, cowboys and Indians, even astronauts and space explorers.  
1966 signified a turning point in the toy industry, when safety concerns about lead poisoning led to bans on certain items, and eventually, to the end of production of lead based toys. In 1973, W. Britain introduced a line of diecast, lead-free, metal alloy soldiers, as well as new product lines made entirely of plastics.  
Through the 1970's, 80's and 90's, a wide variety of new companies produced and marketed new lines of metal alloy and plastic toy soldiers. These companies included names such as Tradition, Herald Plastics, Nostalgia, Blenheim, John Tunstill's ?Soldiers Soldiers?, Starlux, Dulcop, Charbens, Cherilea, Matchbox, and even the Marlborough company.
By the early 1990's, plastic toy soldiers had become all the rage in both Europe and the U.S.  Some collectors refer to this modern revival in the toy soldier collecting scene as the ?Second Golden Age of Toy Soldiers?  (The first being the glory days of collecting lead toy soldiers in the 1940s and 50s.)
Today, toy soldiers, diecast replicas and military miniatures continue to rank as one of the most popular collectible trends for adults and children alike. Any one interested in learning about collecting diecast military soldiers should know that the internet has truly transformed and enabled the proliferation of collecting in recent years.
Serious collectors and toy soldier enthusiasts have set up websites, galleries, blogs, online communities and discussion groups devoted to educating the public, as well as sharing, selling and trading items. Online auction sites such as eBay, mail order diecast companies and various online sites run by experienced collectors and historians will offer novices the best advice and insight regarding how to collect diecast military soldiers.
Certainly, toy soldiers are far more than just child's playthings. In fact, Winston Churchill and H.G. Wells are two of the most famous serious hobbyists for collecting diecast military soldiers. Regardless of whether your interest ranges from ancient toy soldiers to WWI or WWII keepsakes, or more contemporary plastics, developing a passion for these collectibles can become an accessible and highly educational hobby.
Resources:
Collecting diecast model tanks
CMC Collector: What is diecast?
Popular Savings Offers