When you buy something using the retail links in our posts, we may earn a small commission. Catalogs.com does not accept money for editorial reviews. Read more about our policy
here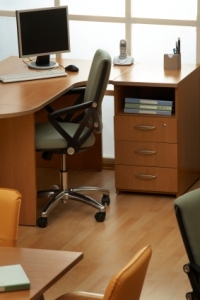 Make more space with less real estate.
With prices going up all around, making the most of your existing office space just makes good economic sense. When your office seems to be bursting at the seams and budgets are tight, there are some simple ways to do more with your limited space.
Replace space hogging paper files with virtual versions

Every business person knows it's important to keep copies of receipts, contracts, research and contact lists, but thanks to today's inexpensive, fast, high resolution scanners, those same files can take up inches of CD or microchip space instead of feet and yards of floor space.

Start your switch to digital by scanning current documents and shredding the originals. Gradually go through old files, adding to your digital data base and eliminating bulky paper files. Be sure your data storage is secure ? you may wish to make to make two copies of your most critical documents and store them in separate locations, or assign one to a secure online data storage site.

As you sort through old files, you may find that many documents have become obsolete (like the instruction manual to the copier you replaced three years ago, or an ad for a company no longer in business.) Be sure that what you scan is really needed. A word of caution: when in doubt about signed contracts or other legal documents, check with your attorney before destroying originals. Some types of records may require original hard copies to remain valid.
~
Rethink your office layout

In the days when real estate was cheap, and other costs were stable, the arrangement of office furniture was not critical. Sadly, those days are gone. When you're trying to make every square foot count, consider the types of office furniture your employees are using. Bulky desks, fixed stands for printers and lengthy credenzas can eat up precious floor space. For a relatively small expense, you can replace those outdated pieces with space saving mobile work stations, corner computer desks and wall mounted shelving, creating a more spacious and efficient office layout.

Restructure onsite employee staffing

When office space is at a premium, it may be time to look at whether all your employees need to be onsite to work efficiently. With rising gas prices, and the almost universal availability of high speed internet connections, employees who currently drive to work only to sit in front of a computer might be happy to work from home all or part of the time. You'll save on office space and utility costs, and your employees will save on gas and other costs of a daily commute.

Whether you chose to replace outdated furniture with space-saving corner computer desks, decide to let your creative staff work from home, or start a program of digital record storage, cutting back on space needs is an easy business project your overcrowded staff and your bottom line will appreciate,