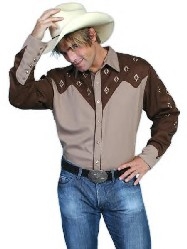 Today's country styles are clothing styles with a Wild West attitude
Swing your partner ?round and ?round. The dance floor is the perfect place to do a little dozy-doe or maybe a country line dance or two?unless per chance you?re swinging around the dance floor in a football uniform, a white tennis dress or an ice skating outfit. No, that kind of attire just won?t do in a western setting, whether at a night club, outdoor barbecue, western party or any other rip-roaring good time. Country clothing styles such as retro western shirts and cowboy vests are what you?re a-hankerin? for?any time you?re out to cause a rootin? tootin? ruckus, of any sort.
The country clothing styles available for men, women and kids, too, are versatile, comfortable and affordable. There are cowboy vests, leather chaps with fringe up the sides, oversized belt buckles and boots galore. There are country clothing styles that pair up denim blue jeans with an amazing array of western shirts. Popular favorites among western shirt styles include embroidered shirts with front pockets and long sleeves. Stripes and checks add a genuine look. Rhinestone accents jazz it up for evening.
Mix and match for authenticity
Top off these country clothing styles with some accessories such as leather-bound cell phone cases, western purses, leather wallets and western hats. What do you have? You?ve got a look that is intriguing whether you?re a man, lady or a young buckaroo. In fact, the glint in the eyes of fun lovers wearing country clothing styles just seems to set them apart from the common crowd.
These rough riders may ride nothing bigger than a desk. Their two-step might be downright rusty?until a rollicking western party or a margarita or two add some lubrication. Nevertheless, when folks wear country clothing styles, their strut indicates they?ve mounted many a bucking bronco in their day?and calmly trotted each into the corral.
What?s the origin of the styles?
Some say country clothing styles first stole the spotlight way back when?when the gold rush to California that began in 1848 brought the activities of hearty pioneer people quickly into the news. Along the eastern seaboard and elsewhere, city folk craved news from the wild, Wild West. Men and women from all parts of the world heard the reports and rushed to seek their fortunes at sites that included some incredibly rich deposits of gold.
? Sutter?s Mill ? 1848, California
? The Comstock Lode ? 1859, Nevada
? Yukon River ? 1869, Alaska
? Bitter Creek ? 1910, British Columbia
People far from the gold fields were aghast at the colorful accounts of humble settlers who sometimes overnight found unheard of wealth in the form of golden metal flakes or nuggets glistening in the bottom of a river bed?or in the dirt.
A nugget weighing 156 pounds?the ?Welcome Stranger,??later was found peeking out of the dirt beneath a wagon wheel in Australia. But no matter where the discoveries were made, the public relished the reports of pioneer families, people shown in authentic country clothing styles?cowboy hats, sturdy boots and roughly woven garments of all types.
~
The influence on fashion
The duds were the work clothes of the day. Country clothing styles were not fashion statements. They were sensible garments meant to hold up under extreme weather conditions?rain, snow, dust storms, and the like But city folk in the east?and in European cities, too?soon emulated the look. It?s a look that remains in high demand today.
Thanks to country clothing styles, anyone with a vivid imagination can add a little Wild West to their weekend. Greenhorns are encouraged to put together an ensemble of country clothing styles, guaranteed to imbue a sense of adventure. Newcomers to country clothing styles have few cautions regarding the purchase of such duds. Nevertheless, a couple basic style guidelines can be applied for best results.
? Check yourself in a mirror to ensure a pleasing rear view
? Tuck in your western shirt and display a nice belt
? Forget about ironing a crease into the legs of blue jeans
? Slim fitting jeans look good with all cowboy boots
? Never wear a red shirt on a ranch where bulls are raised
Wearing country clothing styles is sure to add an adventurous dimension to any activity. Pretend you?ve been out on the range or in the gold fields. The range may be a driving range at the local golf club. The gold fields may be the fields of yellow daisies near the kids? high school. It doesn?t matter. Adventure is in the imagination?and in the way you wear your own choice of country clothing styles.