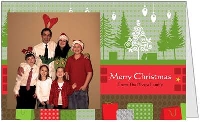 Get dozens of unique ideas for using custom photo cards
Custom photo cards are very popular. It is so much more personalized when you send a custom photo card rather than a generic card. Also known as photo greeting cards, they have a very special appeal. Everyone has seen the print version, but did you know you may even send photo e-cards? Beyond letting people know what you (and the family or group) look like, it also lets the recipient know you cared enough to create this custom greeting just for them. 
Here are some unique ideas for custom photo cards which you may not have considered, along with software and online resources to help you create photo cards for all your needs.
Create Custom Photo Cards Online
Many people send custom photo cards for every holiday from Christmas to Hanukkah, Easter, Halloween, and Thanksgiving. It is especially easy to create and order custom photo cards online.
To create custom photo cards, the first thing that you have to do is select a photograph that is appropriate for the season or special occasion. Photographs can be in color, black and white or sepia. Make certain that the format – horizontal or vertical – of the photograph works with the format of the cards or stationery. Choose a photograph that has bright colors, excellent lighting and nice contrast between lights and darks. The subject of the photograph should be nicely framed in the photograph. The background should be uncluttered. It often helps to have a second opinion: show the photograph you select to a friend or family member.
Photos for custom photo cards can be either digital or print. If you are ordering custom photo cards online and intend to use a digital photograph, you will be able upload the photo from your computer during checkout. You usually also have the option to order custom photo cards and provide a print photograph. The manufacturer will provide instructions on mailing your photo to their production department.
You can only use photographs that you have the right to reproduce. These include all photographs that you have taken, or that have been given to you for use by someone else. Any copyrighted images, like those from a newspaper, magazine, website, stock photo company or other commercial card, will not be duplicated by a custom card company.
~
Unique Ideas for Custom Photo Cards
You know all the obvious reasons to send a custom photo card, such as holiday greetings. How about these ideas:
Achievements (Sarah won Homecoming Queen. Tom was accepted to Harvard. Jill won a Science Prize. Bill sold 10,000 units of widgets. Terrie is promoted.)
Acknowledgments ("We goofed. Please forgive us." "Please accept our gratitude." "You are one of our top customers. Our company appreciates your business."
Anniversary announcements
Announcement of the birth of a child, with photo of the newborn
Association member greetings, invitations, gift solicitations
Charity event invitations
Child or adult baptism / christening
Church group invitation, memento, greeting
Coming of age party, Bar Mitzvah, Bat Mitzvah, Sweet 16 party, Quinceanera
Corporate group events, greetings, invitations, announcements, marketing collateral
Custom photo cards for place markers at special dinners
Engagement announcements
Family Reunions
Get well card
Graduation announcement, invitation, greeting
High School Reunion invitations, mementos, greetings
Introductions
Just divorced
Just married
Membership drives
New neighbors in town "Hi, We're the Jones family. We just moved into your neighborhood."
Postcards
Real estate agent greetings and marketing collateral
Reminders
Resume / job interview supplement, follow-up thank you card
School class mementos, invitations, greetings
Support your local charity
Team greetings, event invitations
Thank you cards
Vacation photo sharing, greetings
Wedding invitation
We've moved
Software for Creating Photo Cards
If you would prefer to create your cards at home, these are some of the most popular software programs for creating photo greeting cards:
PrintMaster Platinum
The Print Shop Deluxe
Print Artist Platinum
The Greeting Card Factory
Print Creations
Hallmark Card Studio
PrintMaster Greeting Cards
Scrapbook Factory Deluxe
Greeting Card Studio
Your computer may already have a photo card software that was pre-installed as part of a bundled package from the factory. Left click on the "Start" button and then check under "All Programs." Locate the greeting card software, buy some stock paper and you'll soon be adding a personal touch to all your documents and greetings.
References:
Greeting Card Software Reviews
Exposures