Cycling gear for biking performance
By Catalogs Editorial Staff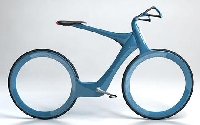 How the Tour de France has shaped the past, present and future of cycling
The sport of cycling has experienced a dramatic rise in popularity over the past century. Today, the design of high caliber racing bikes, the sale of cycling gear for biking performance, and the production of magazines and literature pertaining to
the sport of cycling
have become multi-million dollar industries.  
Many people credit the Tour de France, the world's most famous cycling race, with igniting international popularity for the sport. However, the sport of cycling dates back to the early 1700's when the very first bicycles were invented.
 
Whether you enjoy bicycling in shorts and tee shirts as recreational activity, or whether you invest in racing equipment or specialty cycling gear for performance in order to compete in cycling races or tours, it is helpful to have a basic knowledge of the history of cycling, and an understanding of how these industries first developed, and how they may shape the future of cycling.
A Brief History of the Sport of Cycling
Before you continue reading about the Cycling gear for biking performance there is a special announcement we would like to share with you. Catalogs.com has negotiated special medicare rates for our vibrant community of seniors. If you are over the age of 60, you can head over to our Seniors Health Section which is full of information about medicare. All you need is your zip code and a few minutes of your time to potentially save 100s of dollars on your medicare bills.
In 1690 a Frenchman named Comte de Sivrac invented invented the first two-wheeled, rider-propelled vehicle. Between 1780 and and 1870 the bicycle went through many primitive designs iterations. For example, in 1817 Baron von Drais re-worked Comte de Sivrac's design and created a two wheeled vehicle called The Walking Machine, which helped him to navigate Britain's royal gardens.
In 1865, foot pedals were first applied directly to the front wheel of these primitive bicycles. This unique vehicle became formally known as the velocipede (fast foot) but was nicknamed ?the bone shaker.?  The bone shaker was extremely uncomfortable to ride as it was made of wood and featured metal tires. (Not exactly an ideal design for riding along the cobblestone roads of Europe.)
~
Between 1870 and 1890, a variety of high-wheeled bicycled and tricycles gained popularity.  However, one major invention drastically improved the bicycle during this time. An Irish doctor named Dunlop, applied the first pneumatic tires to a bicycle, in an attempt to create a more comfortable riding experience for his young son.
The 1890s to early 1900s are often described as the ?golden era? for bicycles, when mass production took hold in Europe and the U.S.  The bicycle became an affordable, practical and hugely popular mode of transportation. The bicycle craze drastically impacted women's fashion, killing the bustle and the corset trend and paving the way for more comfortable and athletic clothing styles for women.  
As cycling gained vast popularity during this golden era, a young Frenchman named Geo Lefevre envisioned a long-distance cycling race across the French countryside. Lefevre, who worked as a journalist with a French magazine called L'Auto Magazine, appealed to his editor, Henri Desgrange for financial backing to design the first Tour de France.
The first Tour de France, held in 1903, was a five stage, 3 week summertime race that began in Paris and proceeded through Lyon, Marseille, Bordeaux and Nantes before returning to Paris.  The tremendous bicycle race between sixty competitors, immediately captured the curiosity, attention and admiration of the French, causing the circulation of L'Auto Magazine, which documented and publicized the annual event, to rise from 25,000 to nearly a million readers over the next decade.
In 1919, Tour de France officials instituted recognizable jerseys, and colored cycling gear for performance in order to distinguish riders. The yellow jersey is worn by the the leading rider ? in other words, the rider with the lowest aggregate time at the end of each day. The yellow jersey was used primarily because L'Auto Magazine was printed on yellow paper.  
Since its founding in 1903, the Tour de France has continued to gain popularity and publicity, catapulting the sport of cycling to new heights in recent decades. Cycling athletes and Tour de France competitors such as Lance Armstrong have become international celebrities.  
Dramatic advancements in technology, bicycle design and construction, caliber of cycling gear for performance, and international publicity have led to a new ?golden era? for the sport of cycling. But what does the future hold in store for the sport?  
Cyclists, engineers and designers are currently working on a bicycle of the future, which may be publicly available by the year 2029. This high-tech bicycle features a spokeless, lightweight carbon fiber frame, solar-rechargeable lights, puncture-proof, self-inflating tires, and an ?unbreakable? locking device that allows only the owner to open the bicycle via fingerprint recognition.
Popular Savings Offers