Does bridal lingerie have to be white?
By Catalogs Editorial Staff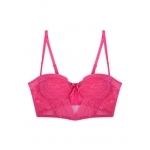 Your bridal lingerie can be any color you want it to be
Wedding gowns are usually white, but not always. Does bridal lingerie have to be white? Of course not! Wear what you want. Surprise the groom with your unconventional color choice. 

What about … a sexy, strapless, cropped bustier in pink, hidden under your gown, or low rider hot pants in a color that is not white? Why not?

Granted, your mother and new mother-in-law might not approve but they don't have to know. And if they do know and voice objections, smile, and wear the colorful items anyway. It's your day. 

Before you continue reading about the Does bridal lingerie have to be white? there is a special announcement we would like to share with you. Catalogs.com has negotiated special medicare rates for our vibrant community of seniors. If you are over the age of 60, you can head over to our Seniors Health Section which is full of information about medicare. All you need is your zip code and a few minutes of your time to potentially save 100s of dollars on your medicare bills.

Most brides don white dresses because it's traditional but that wasn't always the case. Colorful dresses were typically worn at weddings until Queen Victoria set the trend for white gowns when she married in 1840. Subsequent brides followed suit. 

White symbolizes innocence and purity. While this may be precisely what some brides are hoping to project, others don't necessarily want to be portrayed as chaste. Or they may choose to wear white on the outside while sporting some vivid colors underneath. Additionally, some women think they look washed out in white and don't like or want to wear it.

~

There is a poem that predicts the outcome of a woman's marriage depending on the color her gown. However, there is no mention of the color of her undergarments.
"Married in white, you have chosen all right. Married in grey, you will go far away. Married in black, you will wish yourself back. Married in red, you'll wish yourself dead. Married in blue, you will always be true. Married in pearl, and you'll live in a whirl. Married in green, ashamed to be seen. married in yellow, ashamed of the fellow. Married in brown, you'll live out of town. Married in pink, your spirits will sink."

Of course, some women don't put much stock in poems claiming to forecast outcomes. While other's ears may perk up and, on the spot, they ditch the pink gown they were considering after hearing this old ditty. But you can always sneak a little or a lot of color underneath.
Lingerie
Lingerie means undergarments, underclothing, underwear and it also means what a woman wears in the boudoir. No one other than the bride and groom will see the bedroom ensemble so feel free to wear whatever you want, in any color, or … nothing at all. 
Under the Wedding Dress
What is worn underneath the wedding gown is extremely important because it dictates how the outer layer, your dress, is going to look. These hidden garments hold you up and in. They used to be torture devices that women endured but now they are as comfortable as they are functional and good looking.
Ideally, purchase your bridal undergarments before you go dress shopping. Wear them when you are trying on gowns. That way you will know precisely how the dress looks while wearing specific garments underneath. If you buy a gown and are not wearing your bridal undergarments when you do put them on under the dress it can alter the way the dress fits and looks.
Undergarments change the silhouette of the gown, expectantly for the better. Foundation pieces should not be an afterthought. Rather they should be one of your first considerations and purchases when shopping for a trousseau.
You do not want to be tugging on your underwear on your big day. You want your underpants to fit, be comfortable and stay in place. Consider shapewear underpants providing support, smoothing the belly and waist, which come in a variety of hues other than white. Same goes for your bra or bustier. Thigh high hose, garter belts, beautiful bras and slips should be part and parcel of your wedding ensemble. And, yes, they can be colorful.
A hint of color under a white gown, perhaps a multi-colored petticoat peeking out, adds visual interest. Because it is unexpected that makes it all the better.
Some brides even like to jazz it up by wearing colored shoes!
Popular Savings Offers