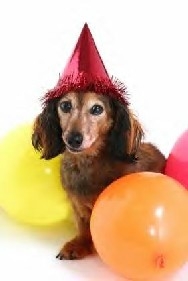 A dog theme for a pet's birthday party can lead to fun and frisky frolics
It?s a dog-gone shame. In times gone by, good doggies didn?t know any better. They settled for a pat on the head or having their birthdays celebrated with humble gifts such as squeaky toys or soup bones purposely left meaty. How boring.
But times have changed. Today?s dog theme birthday party entails much more?an abundance of choices in doggie games, treats, doggie birthday gifts and creative ideas relating to imaginative ways of presenting canine gifts. Many dog lovers espouse a theory that pets are people too and that every doggie is entitled to lots of love, treats and fun.
Today, a dog owner goes to distant lengths in planning a dog theme birthday party for a four-legged friend. Festivities certainly are in store for the President?s new dog?a lively, black Portuguese water dog. And it?s a sure bet there always was a little extra something in hand for previous first dogs such as Spot?an English Springer Spaniel?and Barney?a Scottish Terrier?whose White House family was headed by then-President George W. Bush and family.
Success is in the presentation
Your dog can enjoy presidential treatment, too. A dog theme birthday party can be a gala affair or an intimate gathering of friends and pets. Decorate the party area with dog breed posters. Use paper plates and paper napkins printed with dog theme birthday party images such as dog bones or paw prints. Make your dog theme birthday party special by obtaining a nice supply of discount dog goodies?some edible, some just for fun.
? Rawhide bones
? Rawhide chews
? Pigs ears
? Knotted bones
? Knuckle bones
? Vinyl chew toys
? Plush toys
Remind guests who are bringing their canine friends to your dog theme party to bring along any medications that need to be given at specific times during party hours. Have plenty of doggie waste bags on hand and provide a covered receptacle for waste disposal. Check the premises for safety hazards.
In addition, suggest that each dog owner bring along doggie?s own feeding bowl and water bowl?if the animal is a finicky eater or protective of its personal space. Many dog owners laud the benefits of non-spill bowls for hassle-free feeding. Other owners praise helpful innovations such as orthopedic dog beds?a marvel for senior dogs or any pooch with hip or joint issues. Bring what is needed.
~
Think about challenging doggie games
Once the introductions are made at your dog theme birthday party, what?s next? Chances are some dogs will be happy just sitting at master?s side. Others may need some challenging diversions. Appease the big dogs with treats from a big dog sampler. And think about activities that cost little but provide maximum fun.
? Hide the treat in a line of paper bags
? Hide and seek in the yard
? Hide the treat in a row of overturned pails
? Catch the Frisbee
? Jump over the broom handle
? Run through the hula hoop
? Doggie dancing with owner
? Doggie costume contest
? Best bark competition
? Tunnel run made of open-ended boxes
Some common sense considerations
Any dog theme birthday party calls for some objective thinking. Some diligence is needed when compiling the guest list. Many human guests?family, friends, neighbors?attending a dog theme birthday party already may know each other. Their dogs may be tail-wagging patrons of the local dog park or the nearest doggie day care facility. Familiarity is a good thing when it comes to party guests?human or canine.
Ask yourself if the dogs belonging to potential invitees socialize well at the park and interact without any aggression. Was the blend of breeds amenable to sharing some time at a dog theme birthday party held in a home or backyard? The blend might be important, for a successful dog theme birthday party is ensured when guests are of somewhat similar size and copasetic temperament.
It might be harrowing if a party animal such as a 130-pound Bull Mastiff attends a dog theme birthday party whose guest of honor is a tiny Teacup Chihuahua?a dog weighing in at a svelte three pounds.
Let common sense prevail when inviting canine friends to any dog theme birthday party. Play can get rough. An accidental bump or nip may be child?s play to a big dog. However, an unfortunate encounter could traumatic for a teensy-weensy dog?especially one dressed in a pink tutu.