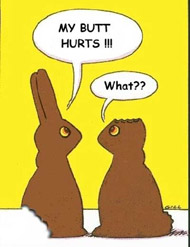 No Easter basket would be complete without candy
Each year many people purchase or create their own Easter baskets.  To bring out the beauty of an Easter basket, fill it with all varieties of Easter candy.  To finish off your basket, wrap it in cellophane and put a bow on it. 
Make sure you have an Easter basket that has ample space.  Line the basket with green grass or colored tissue.  Make sure you protect the inside of the basket.  Do not place the Easter basket candy into a bare basket.  Put candy in bags or small boxes.
The most popular candy for Easter is the milk chocolate bunny.  You can buy a dark or white chocolate bunny, but milk chocolate is the most popular choice.  Chocolate lovers across the world will enjoy biting into a bunny on Easter.
Easter basket candy is not limited to chocolate.  Colorful jelly beans will dress up any basket.  Peeps are also a lovely choice.  These marshmallow chicks come in a variety of bright colors such as yellow, purple, and pink.
Easter basket candy
Jelly Beans
Milk Chocolate Bunny
Chocolate Kisses
Marshmallow Peeps
Chocolate eggs
Cadbury Cream Eggs
Bubble Gum Egg Crates
Cadbury Carmel Eggs
Chocolate Butter Cream Egg
~
Chocolate kisses are another popular Easter basket candy.  These miniature treats are foil wrapped in pastel colors.  They come in milk and dark chocolate.  The dark chocolate is wrapped in a purple foil.  You can use all milk or dark chocolate or mix it up.
Kids love bubblegum.  A great Easter basket candy is bubble gum egg crates.  This is a novelty candy that comes in a cute little egg shaped carton.  Kids will have hours of fun blowing bubbles on Easter.
No Easter basket would be complete without a chocolate Easter butter cream egg.  This Easter basket candy can be found in milk or dark chocolate.  It is a decadent candy choice that will delight anyone who receives it.
If you would like to add Easter basket candy that is more egg-shaped, malted chocolate Easter eggs are the perfect choice.  These speckled colored eggs come in pastel colors such as pink, green, lavender, and yellow.  They are a fun Easter candy.
Easter candy comes in all shapes, sizes, and colors.  Some candies are nostalgic while others are fancy.  Whatever candy you choose, your Easter will be a joyous celebration.  There's nothing like hunting for Easter eggs and then eating Easter basket candy.