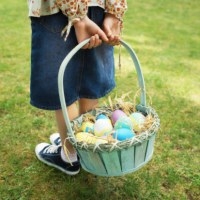 Make Easter for kids an eggs-tra special occasion with these activities.
What is not to love about Easter for kids? The Easter Bunny brings baskets that are overflowing with chocolate bunnies, eggs, marshmallow Peeps, more chocolate, lollipops, jelly beans and every other candy imaginable. And, there are suprises to be had in hidden Easter eggs. It does not get much more fun than that.
There are plenty of creative activities that make Easter for kids a special occasion, but the most common (and traditional) is coloring Easter eggs. Instead of buying your Easter egg dye (like PAAS), why not make your own at home out of everyday kitchen items?

Here is what you will need:
Food coloring
Hot water
White vinegar
Small bowls or cups
Slotted spoon
Cooking oil
Soft cloth
Measure 1/4 tsp. food coloring in small bowl or mug – for each color. Add 3/4 cup hot water and 1 Tbsp. white vinegar to each color. Add eggs and allow to sit until they are the desired color. Remove with slotted spoon. Rub the dry eggs with the cooking oil and a soft cloth to give them a nice shine.
For a little extra zing, wrap a rubber band around your egg several times before dipping it into the food coloring. Let it soak in the dye, remove it and once it's dry, remove the rubber band. Now you have an Easter egg with crazy stripes!
~
If your kids are crafty, have them make these bunny masks. They can wear them while hunting for Easter eggs.
Here is what you will need:
Paper plate
Pink construction paper
Pink and/or white pipe cleaners
Yarn 
Glue
Cut out eyes and nose in the paper plate. Use the pink paper to cut out bunny ears and glue them to the plate. Make whiskers out of the pipe cleaners and attach them to the plate with glue. Tie a piece of yarn to each side of the plate, and tie the two pieces of yarn around your head to hold the mask in place.
Easter for kids wouldn't be complete without fun finger foods. Your kids might enjoy coloring the eggs, but not eating them! Quick tip: Why not devil those leftover Easter eggs? Or use them to make egg salad sandwiches.
Kids will love making these easy chocolate-covered Easter birds' nests.
Here is what you will need:
1 package (11-1/2 ounces) milk chocolats
4 ounces sweet or semisweet baking chocolate
6 cups of Rice Krispies or other crispy rice cereal
Jelly beans, chocolate eggs, peeps or your other favorite Easter candy to garnish
Melt the chocolate in a microwave-safe container for 2 minutes. Stir it and add the cereal. Stir all of it together until the cereal is well-coated. Use some plastic wrap to line small ramekins. Place about 1/2 cup cereal into each bowl and shape each into a nest. Refrigerate to set chocolate, about 2 hours. Remove plastic wrap and fill nests with candy. Makes about 12 nests.
Make Easter for kids an eggs-tra special occasion by filling their hidden Easter eggs with non-edible treasures like money, stickers, friendship bracelets, temporary tattoos or Silly Putty. Besides, they have a basket full of treats waiting for them when they are done with the hunt.