European chef wear: a matter of taste
By Catalogs Editorial Staff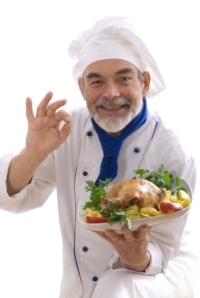 Fashions are a mix of classic and trendy.
Whipping up a new supply of chef wear doesn't take a lot of dough. There are some sweet deals among companies specializing in classic European chef wear for everyone in the kitchen. The offerings range from pristine white chefs' hats featuring an abundance of vertical pleats to comfortable yet classy chef coats, chef hats, trousers and related accessories.
What are the choices?
Before you continue reading about the European chef wear: a matter of taste there is a special announcement we would like to share with you. Catalogs.com has negotiated special medicare rates for our vibrant community of seniors. If you are over the age of 60, you can head over to our Seniors Health Section which is full of information about medicare. All you need is your zip code and a few minutes of your time to potentially save 100s of dollars on your medicare bills.
Trendy offerings that retain a European flair but still look great may slightly bend the bounds of these traditional classics' ancestry but the daring will find fashions that work. Today's looks may include modern accents such as colored piping along the edges of collars and closures. Contrasting cuffs are sparking up some classic white styles. Black buttons against white fabrics looks sharp, yet professional.
There are fashions to match the atmosphere of any restaurant. European chef wear is the traditional standard of excellence. Fine dining venues and more casual eateries alike are equally enhanced when the staff is outfitted in gear that looks cool and crisp. The owners of America's top restaurants would be the first to agree that excellence should be the norm when it comes to presentation?in foods or in the clothing worn by chefs on site.
Are chef hats in style?
The classic white chef's hat?commonly called a toque?is one staple that never goes out of style. It is the world renowned symbol of a masterful culinary professional. People across the globe recognize the occupation of anyone wearing a white chef's hat. Some say that in days gone by the skill of a chef was reflected by the height of the hat.
Today's chef wear reflects pride. Artistry is demanded when preparing appetizers, entrees, hearty meat dishes and desserts for people accustomed to the best fare in town. In the kitchen, the Executive chef may rule the roast but the support staff alongside him is comprised of other talented pros. All need to look their best at all times.
 ~
Are complete ensembles available?
Luckily, a wide array of uniforms and apparel for today's chefs?male and female?meets every need. Chef coats, chef hats, neckerchiefs, shoes and aprons mark a well groomed pro. European chef wear promises high-quality tailoring and wonderful details?hand-covered buttons or hand-knotted buttons.
Uniforms in sturdy but soft poly-cotton blends and pure cotton fibers always find favor. Some attractive embroidery along a pocket often adds a finishing touch. 
Chef hats come in more styles than ever before available. The traditional toque with its vertical pleats and puffy crown is an architectural wonder that remains a classic. Other styles such as beanies, skull caps and berets are picking up steam, too. But the standard white chef hat still is a perennial pick.
How important is tradition?
The origin of the traditional chef's hat is hazy. Legend has it that King Henry VIII was a man who delighted in seeing his banquet table groaning beneath the weight of roasted wild boar and other succulent delicacies. Alongside would be goblets of rich wine and platters of fruit and stuffed game birds.
The story of why chefs began wearing hats goes like this: an esteemed chef who was coping with the onset of baldness presented as usual a delicious meal to the king. The cuisine was delectable and well received until the king noticed in his soup an unfortunate ingredient?a hair.
One can only imagine the royal roar that shook the castle. It well may have been enough to make the torches splutter. And it was followed?so the legend says?by an equally angry command: Off with his head. The royal chef was beheaded and hats quickly became a traditional part of chef wear?and a safeguard against sharp implements.
Do hats make a statement?
The recognition of a special hat was a good start, for unique pieces of attire mark many professions. A chef's hat is a distinguishing feature. A hardhat is the mark of a construction worker. A three-cornered hat was the headgear of colonial patriots. And you don't mess with a man in camouflage, wearing a green beret?especially if he's waiting for his meal. Bon appetite.
Popular Savings Offers