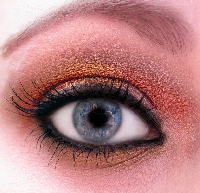 Glam up your eyes with fun eye makeup tutorials!
Some women are born knowing how to apply eye makeup that?s noticeable without making them look like a clown. It?s true. These same gals also breeze through stores knowing just where to find the perfect top for that skirt. Luckily, the internet makes it possible for these talented ladies to share their wisdom with the rest of us. 
Whether you need a little help getting dolled up tonight, or want to try out a few new looks for work, these eye makeup tutorials break down the application process into fun, simple steps. Some of these sites explain how to choose pallets for your coloring, and offer tips on getting that glamorous look to last all night.
A few words of advice: set up a station where you can sit at eye level with a makeup mirror and lay out your makeup and brushes so you?re comfortable as you, ahem, work. Go through the tutorial at least once before you begin and if you need tips for cleaning your brushes – there are tutorials for that, too.
Eye Makeup Tutorials:


Makeup Geek
This website covers all things makeup, including trends, product reviews and an extensive library of video tutorials by Marlena, the woman who runs the site, and other contributors. You?ll find eye makeup tutorials inspired by celebrities, as well as beginning and advanced looks and a 101 section to cover techniques. The tutorials are rather addictive and Marlena?s friendly personality makes it feel like you?re getting a makeover from a friend.
~
With over 80,000 subscribers to her YouTube makeup tutorials, Eman is one prolific makeup artist. Her eye makeup tutorials include classic looks like smoky eyes, looks for every season, how to apply false eye lashes and celebrity looks. If you like what you see, there?s a link below each video with details on the products used.
MissChievous Channel on YouTube
Looking to add a little drama to your eyes? Julia of the MissChievous channel leans toward bold colors. With some offbeat inspiration behind her looks, like cartoon characters and fairy tales, MissChievous will have you reaching for the liquid eyeliner and bright teals in no time. Why go neutral when you can stand out? Tutorials also cover looks from major cities around the globe including Sydney, New York and Berlin.
Lisa Eldridge is a professional makeup artist generously sharing tips and tutorials straight from the runway. Whether you want to enhance your natural look or try out the latest trends, hello red in 2012, Lisa shows how to do it right. The eyes are the star of the show in most of these looks, so keep the lips and cheeks toned down with clean simple colors.
Temptalia offers over sixty eye makeup tutorials for fresh, youthful readers. The written tutorials are accompanied with close up photos of every step. While scrolling and reading is more cumbersome than playing a video, this is a good pace to find inspiration once you?re ready to create your own looks.  
Makeup tutorials are a fantastic source for broadening your knowledge. If there?s a color or look you want to try, google it with the word ?tutorial? and the powers of the internet will deliver.
Resources:
Photo Credit: The Snarky Princess