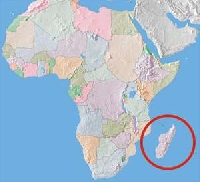 Ready for an exotic adventure in a place off the beaten path? Visit Madagascar.
Tired of the same old vacations? Looking for an adventure? Ready to visit a place that most of your friends have never seen? If so, you may be ready for Madagascar. Exotic, unusual and full of adventure, those who are truly adventuresome can start with informational travel videos and DVDs about this fascinating island nation, as well as other unique destinations..
Here are just a few interesting facts about Madagascar, which is probably most famous in the United States as the setting of an animated movie, The Lion King.
1. Madagascar is the world's fourth largest island.
The island, off the southeastern coast of Africa, may not look it on a map, but it is roughly the size of Texas.
2. Many animals can only be found in Madagascar.
Ever seen a chameleon? Or a lemur, perhaps at a zoo? Do you know what a tenrec is, or a fossa? They're all animals found in Madagascar. Since the country is separate from the African mainland, different species have evolved there, and the vast majority of the 12,000 species found on the island cannot be seen anywhere else in the world.
3. Favorite color and flavor?
Madagascar is also known as "the Red Island," because in many areas, its soil has a distinct reddish tint. The island nation also produces and exports more vanilla than any other country.
4. Breaking away
Scientists believe Madagascar, an excellent cruise destination, was not always an island. Many believe that it was once part of the African mainland, but broke off and drifted out to sea, some say more than a million years ago.
5. Madagascar was once part of France.
From its earliest written history all the way back in the 7th century, Madagascar was an independent nation, though at times divided into tribes each ruled by its own chief. In 1896, after the second of two wars between France and Madagascar, the island was annexed as a French colony. It regained its independence in 1960.
6. The people are among the friendliest anywhere.
The natives of Madagascar, known as the Malagasy, are widely known for their hospitality. Experiencing their culture is in itself reason enough to visit. It is considered the duty of every household to welcome any guest, even a stranger. Much of Malagasy etiquette is based on the notion of "fihavana" (in English, "brotherhood"), which basically entails always finding a way to get along and avoiding hostility.
7. Madagascar has only two seasons (summer and winter, also known simply as wet season and dry season).
Almost all of the island is in a tropical region, but snow is not uncommon at higher elevations. Generally, the island's climate is dry and mild from April through October, but very hot and rainy from November through March (summer in the world's southern hemisphere). The east coast is often hit by cyclones in February and March.
8. It's one of the most inexpensive vacation spots you'll find.
If you're concerned with modern conveniences, Madagascar may not be the best spot for you to visit. Public transportation is overcrowded and schedules are unpredictable, and you are unlikely to find wi-fi or other technology readily available, especially outside the cities. However, if you like roughing it a bit, you can easily get by on as little as thirty dollars per day.
9. Be ready to haggle.
If you pay the first price asked of you in Madagascar, locals will likely smile and know that they've put one over on you. Bargaining is expected, especially in smaller shops, restaurants and hotels. When a businessperson makes you an offer, make a counteroffer. You'll fit in nicely. Tipping is generally not done in Madagascar.
10. There's lots to do!
The island offers tropical beaches, national parks where you can see wildlife and native scenery firsthand, mountains, friendly people, great food, and much more.
References:
CIA World Factbook: Madagascar
Madagascar's tourism site
Information page published by Madagascar's U.S. embassy