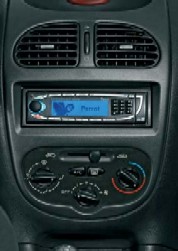 Before you pick out that new car stereo, check out these tips
Looking up upgrade the audio equipment in your car?  Before you run out and buy the newest electronics, consider a few important facts on car audio equipment gathered from leading websites.  And learn how the little things like audio wire looms or a remote control that can make your auto audio experience even better.
Make sure the equipment fits your car
This may seem like an obvious step, but all too often shoppers get so excited about the latest in audiophile gadgets, they forget to make sure it will fit in their vehicle.  Check to make sure the items fit your make and model as well as the year of your car or truck.
Don't overbuy for your vehicle's age and condition
If your car is approaching the end of its useful life, it's probably not a good time to add expensive audio equipment.  Think carefully about how long you plan to keep the car. If it's only another year or two, you may want to make do with your current system, and save the expensive audio products for the next vehicle. It would be a shame to invest hundreds or even thousands in a top of the line car stereo, only to lose it as part of a trade-in a few months later.
Think about the acoustics in your vehicle
Some cars are made for great sound.  In others, even the best sound system wouldn't be able to overcome road noise, awkward speaker positioning or high engine noise.  It's one of the most basic facts on car audio equipment websites and in automotive magazines: if your car is noisy, it's probably not a good choice for a pricey sound system. 
~

Do your research
Fancy packaging and great advertising doesn't make a car audio system the right choice.  Do your research to find the right system for your needs.  If you love a big bass sound, find a system that can handle those low tones without annoying vibration. If long drives are on your agenda, make sure you get a multiple CD system to minimize disc swapping.  Check into each brand's reliability, too.  A fantastic sound is not good if it only lasts a short time.  Repairs are time consuming and often expensive, so buy a system that lasts.
Find a dealer you can trust
That system at the flea market or liquidator might sound great and the price is unbelievable, but where will the dealer be if something goes wrong with system?  A reliable and trusted dealer is a better choice, especially if the car is new or under warranty.  A defective system could hurt your car's entire electrical system, or even invalidate a warranty. A slightly higher price up front could save you in the long run.
Don't neglect the little things
Even the small things like a cable organizer to protect fragile wires can make a difference in the life and performance of your system.  Protecting your wires and cables from moisture or friction can prolong the life of your system, saving you ongoing repairs or even the need to replace an entire sound system.