Fashion trends of the early 1990s
By Catalogs Editorial Staff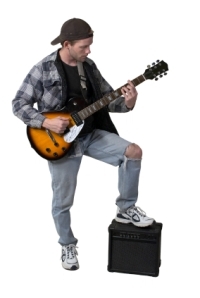 Learn how television influenced fashion trends in early '90s culture.
In the mist of smelling like teen spirit and doing the "Humpty Dance," fashion trends of the early 1990s developed along with the continuing rise of Music Television.
The popular fluffy hairstyles worn by men and women during the previous decade (as seen on television) fizzled out, making way for a more straightened look. While spandex, hoop earrings and fluorescent-colored clothing spilled over from the 1980s, a number of new trends emerged.
Before you continue reading about the Fashion trends of the early 1990s there is a special announcement we would like to share with you. Catalogs.com has negotiated special medicare rates for our vibrant community of seniors. If you are over the age of 60, you can head over to our Seniors Health Section which is full of information about medicare. All you need is your zip code and a few minutes of your time to potentially save 100s of dollars on your medicare bills.
Influences from the World of Music
Hip-hop music was a dominant influence on the clothing and accessories of teenagers and young adults, most notably the backwards baseball cap and baggie pants. The track suit, popularized by groups like Run DMC in the '80s continued to be prevalent in early '90s fashion – but as the middle of the decade approached, more black-hooded sweatshirts referred to as "hoodies" somewhat replaced the track suit. Sports jerseys also popularized and were worn by most rap artists.
Possibly the most hated fashion statement by those outside of the MTV generation is the concept of letting your pants sit well off the waist, exposing underwear for all to see. This fad, referred to as "sagging" continues to this day; however, it is not as popular. 
Michael Jordan's "Air Jordan" sneakers were a large commodity with young men and the shoe's longevity produced numerous styles.
On the other side of the music spectrum, grunge became popular and although the mentality of the music was against the idea of fads, it still greatly influenced fashion. Denim, often frayed and ripped, along with flannel, plaid and thermal was a usual look in the grunge genre. Stone wash jeans replaced acid wash in denim style. Doc Martin boots were the "Air Jordan" of grunge, along with high-top Chuck Taylor All-Stars.
Of course, musicians weren't the only ones affecting fashion. Television was arguably responsible for most trends, as it is today.
~
Celebrity Influences
People see a favorite star with a certain hairstyle and before you know it, hairdressers are bombarded by photos of the desired style. Most notably was the "Rachel" hairdo, based on the character from the hit sitcom "Friends." This was a must-have for women as the middle of the decade approached.
While "Friends" was influencing young adults, another sitcom targeted the adolescence of America. The main characters of "Saved by the Bell" depicted six stereotypical renditions of high school teenagers.
The series placed them together as friends from different cliques, each with his or her own style. For many teenagers whose wardrobes were not influenced by MTV, this show had a major effect on fashion trends of the early 1990s.
So think back: if you were a 17-year-old in 1991, which character would you be?
Zach Morris: Often referred to as "preppy" based on his look, Morris wore collared button-down shirts with straight-fit jeans and khakis. The most popular kid in school, Morris was also shown often in hi-top sneakers and bright multi-colored beach gear.
Jessie Spano: The scholarly class president wore tight jeans that were pulled up to her belly button. Colorful blouses and hair scrunchies were usual in her wardrobe.
Kelly Kapowski: When not in a cheerleading uniform, she wore tight skirts with loose belly shirts and tight-fitting dresses. Her straight, layered hair with fluffy bangs was a style strongly represented in women's fashion of the time.  
A.C. Slater: The athlete of the bunch, Slater usually sported cut-off t-shirts, tank tops, jerseys, spandex sports gear and high-waist tight jeans. In addition to the "jock" look, Slater also wore loosely fitting, silk dress shirts and khakis.
Samuel "Screech" Powers: This "nerds" wardrobe was zany, mismatched and weird. Florescent shirts with loud patterns and baggy pants of the same nature were his usual clothing.
Lisa Turtle: Known on the series as the fashionable one, she was usually found in dresses of mixed denim and colorful fabric. She wore large hoop earrings and headbands that matched her outfit.
Popular Savings Offers