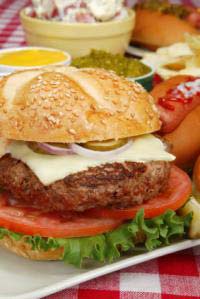 These examples of fast food calories show that we may not realize just how many grams of fat and calories are in our favorite treats. Credit must be given, however, to the large fast food chains for introducing healthier foods such as salads to their menus. Patrons always have a choice about what foods to order. Soda can be replaced with juice or milk, burgers by salads, and smaller portions can be purchased in order to make eating fast food calories more health conscious. Here are some numbers for you to consider.
McDonald's
Big Mac – 540 calories, 29 grams of fat
Large fries – 570 calories, 30 grams of fat
Quarter Pounder with cheese – 510 calories, 26 grams of fat
Big N' Tasty with Cheese – 510 calories, 28 grams of fat
Premium Grilled Chicken Classic Sandwich – 420 calories, 10 grams of fat
Scrambled Eggs (2) – 170 calories, 11 grams of fat
Hotcakes with margarine and syrup – 610 calories, 18 grams of fat
It must be noted that McDonald's is taking steps to make its menu healthier and does offer lower calorie items. Order these items to save on fast food calories.
Kentucky Fried Chicken
Chicken Pot Pie – 770 calories, 40 grams of fat
Extra Crispy Chicken (1 breast) – 440 calories, 27 grams of fat
Original Recipe (1 breast) – 380 calories, 21 grams of fat
Double Crunch Sandwich – 570 calories, 23 grams of fat
Colonel's Crispy Strips (3) – 350 calories, 19 grams of fat
At the Colonel's house, you can always order the green beans or the Mean Greens to reduce your fast food calories. ~Dairy Queen
Medium Chocolate Malt – 900 calories, 21 grams of fat
Homestyle Burger – 350 calories, 14 grams of fat
Medium Chocolate Dipped Cone – 490 calories, 23 grams of fat
Medium Health Breeze – 710 calories, 18 grams of fat
Peanut Buster Parfait – 710 calories, 30 grams of fat
Chicken Strip Basket (4) – 1030 calories, 54 grams of fat
Arby's
Kid's Chicken Finger Meal – 289 calories, 14 grams of fat
Homestyle Fries – 566 calories, 37 grams of fat
Curly Fries, Large – 631 calories, 37 grams of fat
Large Roast Beef Sandwich – 547 calories, 28 grams of fat
Kid's Meal, Junior Roast Beef Sandwich – 272 calories, 10 grams of fat
Market Fresh Roast Beef and Swiss – 777 calories, 41 grams of fat
Burger King
Double Whopper with Cheese – 990 calories, 64 grams of fat
Regular Whopper (no cheese) – 670 calories, 39 grams of fat
Whopper Jr. – 370 calories, 21 grams of fat
King Size French Fries- 600 calories, 33 grams of fat
BK Veggie Burger – 420 calories, 16 grams of fat
Dairy Queen
Medium Chocolate Malt – 900 calories, 21 grams of fat
Homestyle Burger – 350 calories, 14 grams of fat
Medium Chocolate Dipped Cone – 490 calories, 23 grams of fat
Medium Health Breeze – 710 calories, 18 grams of fat
Peanut Buster Parfait – 710 calories, 30 grams of fat
Chicken Strip Basket (4) – 1030 calories, 54 grams of fat
Arby's
Kid's Chicken Finger Meal – 289 calories, 14 grams of fat
Homestyle Fries – 566 calories, 37 grams of fat
Curly Fries, Large – 631 calories, 37 grams of fat
Large Roast Beef Sandwich – 547 calories, 28 grams of fat
Kid's Meal, Junior Roast Beef Sandwich – 272 calories, 10 grams of fat
Market Fresh Roast Beef and Swiss – 777 calories, 41 grams of fat
Burger King
Double Whopper with Cheese – 990 calories, 64 grams of fat
Regular Whopper (no cheese) – 670 calories, 39 grams of fat
Whopper Jr. – 370 calories, 21 grams of fat
King Size French Fries- 600 calories, 33 grams of fat
BK Veggie Burger – 420 calories, 16 grams of fat