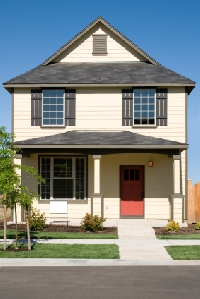 Explore your options for making your housing dreams come true.
The joy of home ownership is increased tremendously for one group of consumers. That group is single mothers. Whether single by choice or due to divorce, certainly taking charge of your future and your child's future by buying a home is a tremendous task. According to the National Association of Realtors the average single-female home buyer is under age 45 and gainfully employed. So buying the home is as much about security as it is about financial investing. For single mothers, finding a home that offers programs that assist in financing and obtaining down payment financing is pivotal. Now is a great time to find them, even if you need to consider government assistance for single mothers buying a home.
The National Association of Realtors also reports that women home buyers, especially single mothers, focus on buying a home base on their needs. Those needs will primarily be space, room for growth, neighborhood safety and access to quality schools and family-friendly play environments. Realty experts say single mothers should approach housing financing much the way they approach listing their housing needs. First, know exactly what your real budget to buy is, decide if a townhouse, condominium or single family home is best for you and the kids and think about whether you need a community that offers a maintenance plan. One of the best ways to be thorough in your housing financing efforts is to do some research, whether it is attending seminars, talking to various lenders or taking to the Web.  
Once you have made those determinations build a checklist based on what type of financing you will need: mortgage payment assistance, down payment assistance, etc. The current housing debacle has increased access to programs. Most states now offer an array of state government programs that will help with down payments, or provide grants that cover a substantial part of the overall home cost. If housing finance options in your state do not look appealing, please do not get discouraged. The United States offers government assistance for single mothers buying a home and home buyers in general.  Here is a quick overview of some options to be considered:
Housing Loans for Very Low to Moderate Income Individuals in Rural Areas – to qualify applicants must have very low-, low- or moderate incomes. You must also be able to show that you can afford payments, have been unable to obtain a mortgage through a different source and you must be a citizen or permanent resident. 
Housing Finance Agency – in existence for almost thirty years, they are well-kept secret. Their purpose is to increase home ownership among special groups i.e. single mothers and first time home buyers. They specialize in applicants with not a lot of money for down payments. To find an office in your state, visit them here. 
~
Adjustable Rate Mortgage Insurance (HUD/FHA) – ARM insurance helps individuals buy a single family home for living purposes only. HUD does not lend money directly to consumers; they can point you to FHA-approved lenders with loan money through a number of FHA-insurance programs. 
Basic FHA Loan (Home Mortgage Insurance – HUD/FHA) – much like ARM Insurance programs, this loan is for individuals looking to buy a single family home. It also applies to those looking to refinance. 
Condominium Unit Purchase (Mortgage Insurance – HUD/FHA) – this particular initiative can assist you in buying a home in a condominium development. This may require an upfront funding fee and usually carries no pre-payment penalties. 
Housing and Urban Development Owned Properties – the purpose of the program is to sell the inventory of HUD-acquired properties in a manner that expands home ownership opportunities. HUD does so in hopes of strengthening neighborhoods and communities. To qualify for this benefit program, you must be a renter who needs financial assistance with your rental housing costs, or you must be a current or prospective homeowner who needs financial assistance with mortgage payments. 
HUD is also a great starting point for obtaining information on a variety of government grants or assistance programs for single mom home buyers. HUD actually funds housing counseling agencies throughout the country that can give you advice on buying a home, renting, defaults, foreclosures, credit issues and reverse mortgages. 
While some realtors may not be interested in helping the single mom find government grants or loan programs, others may be; so shop around for a realtor that can help you comprehensively. Be encouraged, obtaining mortgages for single mothers is not as difficult as it used to be. Another good search place is county governments or community organizations in your area – do a search for Down Payment Assistance programs. Many groups offer them with different restrictions and requirements.