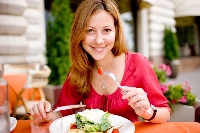 Develop healthy eating habits while dining out to reinforce your diet and weight
When watching your weight or simply trying to eat healthier foods, a huge hurdle is often found when deciding what to eat when you're out. As a motivational speaker I heard recently pointed out, restaurants don't often provide nutrition information on their menus, and looks can often be deceiving. What you think may be a healthy option may be vastly different from your expectations and stunt weight loss or overall health in general.
Instead of avoiding going out to eat entirely, the following tips can help guide you to selecting the best foods, the healthiest options and tips and tricks to restaurant ordering that can limit your calories and continue healthier eating habits regardless of where you are.
Avoid the Tempting Soft Drinks
Although most restaurants come with a wide selection of beverages to compliment any meal, the tempting choice is often to go with a soft drink. Soft drinks, however, are full of empty calories that can quickly add up. Instead of giving in to temptation, ask for a simple water or low-fat milk. You can save the unnecessary calories and avoid the guilt that often follows.
~

Sandwich Tip
When ordering a sandwich for lunch, the choice of bread is more important than you might think. Instead of going for the plain white standby, ask for whole wheat. With more nutrients and benefits and less calories overall, it is a much healthier alternative to the empty-calorie white variety.

Dressing the Salad
When ordering a healthy salad as an alternative to higher caloric temptations, it's easy to overlook the obvious problems. A lot of the calories (if not most of the calories) don't come from the meat or vegetables. It comes from the dressing. If possible, ask to have your salad dressing on the side, and ask for the low-fat option instead of just the house selection. Then you can add as much or as little dressing as needed to suit your taste and leave a lot of useless calories on the side.

Fried Foods vs. Other Alternatives
While fried foods may be high in taste, they're also high in fat, calories and other unnecessary additives. When selecting an entr?e, make the choice that includes the option to broil, grill or even steam. These cooking alternatives keep the flavor of the food without all of the added fat and the taste is still on par with your expectations.
Smaller Portions
Restaurants may have earned their infamous reputation for serving huge portions that no person could possibly eat in a single serving, resulting in leftovers that sit on the shelf of your fridge indefinitely.
With the continued focus on healthy alternatives to traditional dining, a lot of restaurants have evolved to fit the changing need of their customers and are now offering healthier alternatives to some of their favorites – or offering smaller portions of their larger entrees. An insightful keynote speaker suggested ordering a small portion which not only cuts down on caloric intake, it also eliminates waste. No matter how good your intentions, the majority of leftovers sit in oblivion on a home refrigerator until there are tossed away.
Start with Something Small
When you go out to dinner, choose to start the meal with a house or side salad (dressing on the side) rather than another high-fat appetizer. Not only will this reduce your appetite by the time the entr?e arrives, it gives you a fresh start to the meal. By asking for sides like grilled or mixed vegetables instead of fries or baked potatoes, you are also limiting your calories while still enjoying a good meal and minding your healthy eating habits as well.
It's easy to lose sight of healthy eating goals when dining out. It feels like an escape from the norm, but unfortunately that escape can cost a hefty price on your waistline and your wallet. These tricks can help you avoid the obvious pitfalls and keep you straight on the road to success. Your overall health and weight loss efforts will thank you for your efforts.