When you buy something using the retail links in our posts, we may earn a small commission. Catalogs.com does not accept money for editorial reviews. Read more about our policy
here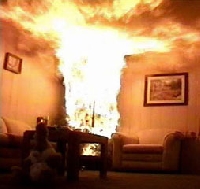 Following a few simple holiday safety tips will make your holidays brighter
There's a famous scene in National Lampoon's Christmas Vacation where a flick of a cigar sends the Christmas tree up in flames.
In a movie, that scene is funny. But in real life there is nothing humorous about a house fire or any other holiday mishap.  Fortunately, following a few simple holiday safety tips can prevent accidents, and keep your family safe throughout the holidays.

Keep an eye on fire risks
Candles, strings of lights and a blazing fire in the fireplace are all part of the holiday season.  But these beautiful holiday images are also the reason house fires are most common during the holiday season. When it comes to fire or lights, these holiday safety tips can make the difference between a memorable holiday and a disaster.
– Never leave candles unattended. This includes the Hanukkah candles, those sweetly scented votives or a pair of tapers on a mantle. An unstable candle could fall out of a menorah, a cat could topple a candle in a jar, or a bump against a table could knock over a candlestick. In second, any of these could ignite the curtains, a pile of wrapped gifts, or a holiday tree.
– Have your chimney cleaned before the holidays. Soot can build up on chimney walls or bird nests and other debris can fall into the chimney.  the result?  That beautiful fire in the fireplace leads to a chimney fire.  At best, you'll have a house full of smoke, at worst a major fire.
– Check light strings for frayed wires.  Christmas lights are far too cheap to warrant keeping damaged strands. If your old lights show signs of damage, or do not carry a UL (Underwriter's Laboratory) Seal of Approval , invest a few dollars in new lights. Of all the holiday safety tips, this one alone could prevent hundreds of accidental fires each year.
– Water that tree every day. The dried out Christmas tree is one of the biggest holiday fire risks. Keep your tree well-watered.  If the needles begin to fall off, you should remove the tree from the house. If you choose not to remove it, do not turn on light strands on the tree. Even the small amount of heat generated by a strand of lights can be enough to ignite a tree.
Watch the little ones
With a house full of family and friends, it's easy to think that small children are safe. After all, there are so many adults around.
~
The problem is everyone thinks someone else is watching out for the littlest family members, so no one may really know where they are or what they're up to. That's why a set of holiday safety tips for toddlers, preschoolers and other small children is so important. Some of the biggest risks include:
– Wandering outside. During holiday parties, doors may be left unlocked and amid all the comings and goings, it's easy for a child to wander outdoors where they may be at risk from traffic, swimming pools and other water or even exposure in cold climates. To control this danger, lock the door between guests. The extra steps you'll have to take are worth it, when a child's safety is at risk.
– Unattended purses and pockets. Adults can carry all kinds of things that can be hazardous to children, including pills, cigarettes, lighters, sharp objects like nail files, and small things that can be swallowed.  Make sure coats and purses are kept in a room with a closed door to avoid temptation.
– Alcohol. Even a small amount of alcohol can be toxic to a small child. Make sure drinks are kept out of reach of small hands.
– Firearms. Sadly, a number of children are injured or killed each year by firearms. Make sure all weapons in your home are not loaded, and are kept under lock and key. If you're visiting another home, ask if they have done the same.  The little question may seem embarrassing, but it could save a child's life. 
– Don't assume that other people's homes are childproofed. Especially when visiting homes without small children, watch out for hazards like unlocked cabinets in kitchens and bathrooms. open access to swimming pools or unprotected balconies.
The holidays are a great time of year.  If you follow a few holiday safety tips, you can create wonderful family memories.  Happy holidays!