How to choose a sports bra
By Catalogs Editorial Staff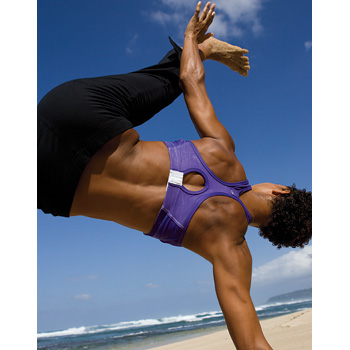 Selection of a sports bra should be based on breast size and work out intensity
Some serious consideration should be given to figuring out how to choose a sports bra. The wrong sports bra is not going to provide you with the necessary support and may even allow damage to be done to your breasts during a strenuous workout. The right sports bra can make all of the difference.
Choosing a sports bra is based in large part on what type of exercises you engage in. Walking, weight training, yoga and road cycling are considered low impact exercise, whereas inline skating, moderation hiking and skiing are considered medium-impact sports. High impact sports, which are going to jar your breasts the most, include aerobics, running and mountain biking.
Compression sports bras are good for women who have A and B cup breasts. These bras will compress the breasts against the chest wall and restrict movement. Compression bras come in racer-back styles that are very supportive and are excellent for medium- and high-impact activities. The compression bra is also available in a scoop-back style that is ideal for low or medium impact aerobics. 
Before you continue reading about the How to choose a sports bra there is a special announcement we would like to share with you. Catalogs.com has negotiated special medicare rates for our vibrant community of seniors. If you are over the age of 60, you can head over to our Seniors Health Section which is full of information about medicare. All you need is your zip code and a few minutes of your time to potentially save 100s of dollars on your medicare bills.
Keep in mind that thin spaghetti straps on a sports bra provide less support than a wider strap so you may not want this type of strap.
If you are large breasted (C or D cup) opt for a compression/encapsulation bra that provides a lot of support. If you have breasts that are a D cup or later, the encapsulation bra is best for you. This bra contains two individual cups that support and surround each breast separately.
If you do not need much support or are not engaging in high impact exercises, you may want to choose a shimmel, which is a tank top that is outfitted with an integral shelf bra that provides some support but not a whole lot.
~
Ideally, a sports bra should fit you tighter than a regular bra but it should not be so tight that it is uncomfortable. Try to avoid hooks and snaps because they can chafe your skin. The bra should fit in such a way that there is no chafing under your arms or chafing caused by seams or unsuitable shoulder straps. The straps should not dig into your shoulders.
When you raise your hands over your head while wearing your sports bra, if the elastic band moves upward you need a smaller band and or you may need to adjust the straps. A wide band is more supportive than a narrow one. The band is the foundation of the sports bra, just at a well-fitting sports bra is the foundation of sportswear for women.
The cup fabric in a sports bra should be smooth. If puckering or wrinkling occurs, the cup is too big. Jump and jog around the dressing room to give the sports bra a practice run when deciding how to choose a sports bra. If you are "flopping" and uncomfortable when moving, the bra is not providing enough support.
The straps are not the main support of the bra, even though they hold up the cups. The straps should allow minimal stretch and should not slip off or be uncomfortable. A wider strap disperses weight better. Consider choosing a sports bra with adjustable straps so you can get the precise fit that you desire.
Some sports bras feature under wires, which are plastic or metal and which run along the bottom of the cup. An underwire provides even more support.
Purchase a sports bra – the foundation for your workout sportswear – that contains wicking fabrics that draw the moisture away from your skin. Unfortunately, the more supportive a sports bra the less able it will be able to provide wicking because the sturdier the sports bra the sturdier the construction and fabric and the less moisture absorption that occurs.
How to choose a sports bra that fits
Remove your shirt and measure just under your breasts around your rib cage. Take this measurement and add five inches and round up to the nearest even number. If your rib cage measure is 33 inches or more add three inches to the measure and round up to the nearest even number. This is your band size. To determine your bust size, measure loosely around the fullest part of your breast and then round up to the nearest whole number. Subtract the band size from your bust measurement and this will determine your cup size. If the difference in the two numbers is one inch, your cup size is an A. If the difference is two inches, you are a B cup. If the difference is three inches, you are a C cup and if the difference is four inches you are a D. A difference of 5.5 inches indicates that you are a DD cup.
For example, if your rib cage measurement is 29 inches, add five inches and that means that your band size is 34 inches.  If your bust measurement is 34 inches, round up to 35 inches. Now subtract 29 inches from 34 inches. The difference is five inches. You should wear a D cup. 
Why it is important to choose a sports bra that fits
If you are extremely active and play sports, your breasts are going to be bounced around and this can result in breast soreness. A sports bra will limit the movement of your breasts via compression, which either flattens your breasts or encapsulates the breasts by using molded cups that separate your breasts. The molded cup version is best for large-breasted women. When your breasts are not supported, the bouncing of the breasts can cause internal bleeding. 
A good sports bra not only provides support but protection for your breasts. The padding in a sports bra will lessen the blow to the tissue that occurs when you are exercising. This will lower the risk of damage occurring in the stroma of your breast, which includes connective tissues, fat, nerves, the lymphatic system and blood vessels. The suspensory ligaments in your chest hold up breasts and are what gives the breasts their size and shape. Once these ligaments are stretched, they do not go back to their original position. A sports bra will reduce stress on the breast tissue and stretching.
Remember to choose a sports bra that is breathable, such as one with cotton-lined cups, and select a sports bra that has some elasticity in the straps, which prevents discomfort.  Make sure that you are buying the right size. If the sports bra is too large or too small it cannot protect your breasts adequately nor will it prevent breast pain.
If you do not provide you breasts with adequate support, this allows the natural breast tissue to break down and you are going to end up with belly ornaments otherwise known as breasts that hang down to your waist.
Popular Savings Offers