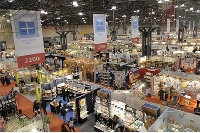 How to do a trade show so it pays off for your companys time and money invested
Trade shows are a prime opportunity to create new business relationships. Both exhibitors and attendees travel from all over the country, in some cases the world, to gather in one place. This goes to show technology is still no substitute for the impact of meeting people in-person.
You really can?t over-prepare if you want to make it worth your company?s while. Registration isn?t cheap, especially once you add it to the costs of travel, lodging, food and marketing materials.
The hope is to walk away with orders, exposure and new business relationships. The most effective ways to get these results is with smart planning and attention-grabbing promotional products. Read up on how to do a trade show, and give yourself plenty of time to prepare.
Play your cards right, and you won?t only pay for the costs of doing the show, you can do at least 3-5 times this amount in sales, plus orders that come in after the show AND repeat orders from new customers.
Do your Homework
Ask professional peers which trade show they recommend for where your business is currently at. Ask them which show?s they?ve done, and what attendance was like.

 
Buy a booth within your budget. Don?t splurge on a big spot in the hottest location and expect it to pay for itself. Buyers typically walk the entire show so they?re just as likely to find you a few aisles away from the entrance.

 
Once you decide on a show, take advantage of any early bird specials in registration and lodging.

 
Try to choose a booth by a big company that will draw a lot of people.

 
Read through the materials the show sends you, and make arrangements for any equipment you?ll need to rent or electrical power required.

 
~
Booth Design
Location isn?t everything if you have an organized, well designed booth. All products should be clearly displayed.

 
Set a table to the back of your booth for marketing materials so buyers are more likely to step into your booth. This way people look at your products, rather than simply grabbing a one sheet and walking by.

 
Keep order forms on a clip board so they?re within easy reach when a prospect becomes a customer.

 
Be creative. Not everyone can afford to have a custom display built, but you can afford some crafty resourcefulness and good judgement. Have an eye-pleasing back drop and bring plenty of clip lights so the products are well lit.

 
Sell Sell Sell
Everyone has a different way of doing it, but the number one thing to remember when you've made the investment for an exhibit hall booth is to sell. Take time to talk to people who come in your booth, ask them about their business and customer base. Buyers remember the people who were friendly.

 
Know your product. All the smiles in the world won?t convert interest into an order if you don?t anticipate questions and know how to talk about your product line so people get it, and can see it working in their store.

 
Eliminate distractions. Turn off cell phones, and keep the computers off or people will assume you?re too busy to talk.

 
Your sales reps are the face of your company. The impression they give reflects your business. If they?re on the phone or playing games, customers will think you have lousy customer service.

 
Smart promotional products

like colorful totes, pens, water bottles and draw string bags keep you top of mind and advertise your business throughout the show.
How To Do A Trade Show: Bonus Tips
Have a small chair in the booth for customers only. Sales reps shouldn?t sit down since the buyers will be on their feet. Energy must be high, smiles big and

attire polished

.

 
Have at least one sales rep besides yourself so you can step away for lunch and water. Make time at some point to walk the floor, attend breakout sessions and socialize. Besides connecting with buyers, tradeshows are filled with important people like industry media and potential mentors.

 
Bring more press kits and business cards than you think you?ll need.

 
Wash your hands often. You?ll be meeting a lot of people, shaking quite a few hands and picking up plenty of germs. Avoid getting sick so you can stay on top of follow-ups and orders post-show.

 
Trade shows take a lot out of even the most extroverted people because you?re basically ON all the time. Give yourself credit for showing up, and make notes for next year.
References: