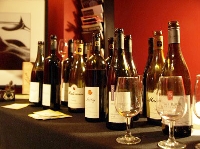 Learn how to do a wine tasting for a fun way to uncork a bottle with friends
If you're in a party mood and there are no birthdays, holidays or other special occasions coming up, the next best reason to invite friends and family over is for a wine tasting. It can be as easy as sharing a few bottles of your favorites or as elaborate as hosting a formal dinner party.
Whether you choose one of these or something in between, follow these basic tips on how to host a wine tasting and you can pop a cork to celebrate a successful party.
Choose a theme
Once you've decided to do a wine tasting, the first step is to decide on a theme.
A popular one is the wine and cheese tasting. Different types of cheeses can bring out different flavors in the same wine. There are standard pairings, like Chardonnay and brie, as well as many unusual and experimental pairings. Ask a knowledgeable wine supplier or do some research on the Internet for suggestions.
An up-and-coming theme is the wine and chocolate tasting, pairing two things that taste great together and are good for you as well. 
~
An Old Word versus New World theme features selections of European wines and wines from the Americas.
Other popular themes showcase wines from various wineries bottled during the same year (horizontal) or wines bottled by the same vineyard but in different years (vertical).
Choose a theme that will please your guests' tastes as well as stimulate interesting discussions. If that's too difficult, go with a blind tasting where the glasses are unlabeled and guests simply taste, compare and discuss.
Get the logistics down
Once you've chosen a theme, the logistical work begins. Pick a date and time that's most convenient to your guests, one that doesn't conflict with other holidays. The size of the hosting venue and the mix of friends will determine how many guests to invite.
This is also the time to determine how the costs of the wine and foods will be shared, an important consideration if some of the wines are expensive. You can create your own tasting card with wine and food names for guests to record their comments, use one provided by a wine store or just give them blank paper and pens.
When planning how much wine to provide, an accepted rule of thumb is two ounces of wine per glass per wine.
Other considerations
Here are some other things to consider to make your wine tasting a success. Plan the tastings to progress from dry to sweet with white wines and from light to full-bodied for reds. Provide plenty of plain white bread and water for your guests to cleanse their palates between tastings. If you don't have a large supply of wine glasses, suggest that guests bring their own. A handy container with an unpleasant name, a dump bucket or container should be provided to discard wines. A pitcher of water should be placed near it for cleaning glasses.
Finally, just as important as the wine is the conversation. Tasting cards get things going, but you can also play some simple trivia wine games to get guests comfortable with sharing. If all of this preparation is overwhelming or you have time constraints, consider using a wine tasting kit from your wine store. How ever you do it, a wine tasting is a great way to host a fun and successful party.