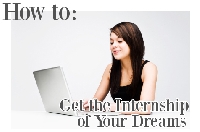 Knowing how to get an internship puts you ahead of the game in your chosen field
An internship may not pay well, or anything at all for that matter, but it can be one of the most valuable and rewarding experiences of your work life. Having an internship under your belt, particularly if you did well, bodes well for future employment.
Internships are considered work-related learning experiences and are usually career-specific. You take what you?ve learned in the classroom and apply it to the real working world while supervised by a company employee.
An internship is an unparalleled learning experience and it looks impressive on a resume.
If you are a college student, ask your professors or adviser how to get an internship. Maybe your classmates, especially upperclassmen, can give you some advice. Brush up on your interviewing skills, make sure your resume is topnotch and start looking.
Ask your college adviser if the university you are attending provides grant college credit for approved internships. If so, you will get credit for your internship. Find a mentor, which could be a professor or adviser who is in your field of interest and can guide you.
Don?t wait until the last minute to decide, yes, I want to do an internship and then start looking for one. This is a highly competitive area. Early in the school year, talk to your school adviser or seek the services of a career counselor that can guide you in the right direction.  College alumni may be able to help you. Go online and check out information about possible internships. Word-of-mouth is a great way to get the low down on what companies provide internships.
~
The directors of human resources departments in companies like having interns. The internship is a training ground for potential future employees. Companies invest in internship programs because it allows them a better way to foster future employees and also eliminate the undesirables.
Some internships are paid; some aren?t. Many companies realize that as much as a college student may want to intern for them, and would be an asset to the company, the student can?t because he has to have income and working for nothing is not an option. Because of this more companies are offering paid internships. Some companies are giving one-time stipends to interns that are enough money to pay the intern?s basic needs and defray the cost of living.
If you aren?t paid keep in mind that you are making great connections and having an experience that will pay off in the future when you graduate from college. This helps soften the no-pay blow.
An internship program should allow the intern to do work that is related to his field. If you want to become an attorney, hopefully you can work in a courtroom or with a judge or an attorney and won?t be emptying trashcans. When an internship program allows interns to do real work this ensures that the program is a success.
Businessweek.com has a list of the 50 best internships in the country, so start there. About.com also has a list of top internships. If you are a budding fashionista, check out Collegefashion.net.
Decide if you want a summer internship or one that is done during the school year.
An internship allows you to definitively decide if this is in fact that field or work you want to spend your life (or many years) in.
If you have the opportunity to do an internship take advantage of this. It could be a once-in-a lifetime chance for you to experience first hand what you think you want to do for a living. You can make life-long contacts, learn to network and get a bird?s eye view of what it is like to be in a certain business.