How to keep a mastectomy bra from riding up
By Catalogs Editorial Staff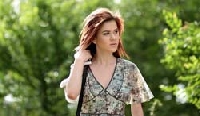 Keep a mastectomy bra from riding up with these great tips for your comfort
Having a bra that rides up is a troublesome issue. This is especially true if you?re dealing with a mastectomy bra and are using an insert or prosthesis to keep the bra in place. Add that to skin and tissue sensitivities from the operation and you may end up feeling helpless. Fortunately, there are excellent solutions for this challenge!
Taking time for a proper bra fitting is an excellent place to start. Just as with regular bras, a mastectomy bra has to fit well. It needs a pocket to hold the prosthetic in place, have a band that?s tight enough to not move, but not so tight that it cuts into the skin.
 
An excellent option is to use a bra from a collection designed for mastectomy patients with partial or full reconstruction. This type of bra offers 360 degrees of movement and comfort, without seams. It means there are no hooks, eyes, wires or lumpy seams to poke, pinch or chafe you. The cup pockets have a double layer of fabric, providing extra support to wearers. They also perfectly hold a modesty pad and soft or silicone prosthetics.
Doctors are starting to recommend this type of bra, because the soft microfiber and spandex makes for a great compression garment after surgery. Compression helps minimize swelling and edema that naturally occurs after a procedure.
Before you continue reading about the How to keep a mastectomy bra from riding up there is a special announcement we would like to share with you. Catalogs.com has negotiated special medicare rates for our vibrant community of seniors. If you are over the age of 60, you can head over to our Seniors Health Section which is full of information about medicare. All you need is your zip code and a few minutes of your time to potentially save 100s of dollars on your medicare bills.
~
It is important to note that you need to check with you doctor before using any product for medical reasons. You have to be sure it is right for you and your situation or problems can occur.
 
If you have a favorite bra and just want to keep it from riding up ? no worries, there. Women have been dealing with this issue since before there were mastectomy bras. One favorite option was to take two pieces of elastic and pin one end of each piece to either side of the bra and the other to the waistband of your trousers, skirt or undergarments.
Also available are bra suspenders. These have the same types of clasps as standard suspenders, only on shorter pieces of stretchy material. Clip one end to your bra and the other to the appropriate waistband and you?re good to go. While this option works well, it can be irritating to use. Clasps and pins ? especially near surgical scars ? can bother the skin. Additionally, it can make a trip to the restroom annoying.
If you have a bra that fits well, but you?re having an issue with the prosthetic itself riding up, there are a couple of tricks you can try to solve this problem. For a soft prosthetic, try pinning it into place with small safety pins in inconspicuous locations. Another option is to use boob tape. This two-sided tape is designed to hold fabrics and skin in place. It is a single use product, so you?ll have to replace it daily.
For silicone prosthetics, the solution is a bit more complicated. The general school of thought is that the silicone by itself is heavy enough to stay in place, which is often true. But sometimes they just won?t behave and to fix this, manufacturers offer weights to attach to the prosthetic. You can try adding the tape in this situation, as it can provide another layer of security.
Bra manufacturers read the chat boards and listen to customer feedback. As a result, they have been working to develop a wide range of mastectomy bras that are easy to wear, don?t ride up and look great all day long.
Without a doubt, there are many companies making mastectomy bras and prosthetics and stores carry a wide variety of them. It?s a matter of trying different solutions and finding the one or the combination that is perfect for you and your needs.
Popular Savings Offers