How to make makeup look good
By Catalogs Editorial Staff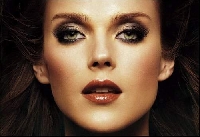 Secrets on how to make makeup look good from makeup gurus that everyone can use
When you set your eyes upon beauties such as Kate Winslet and Megan Fox, there is a common misconception that a flawlessly made up face is unattainable and only for the elite. This is false –  as any woman can make makeup look good if she buys a few key products and follows a few simple steps.
Skin Care

People are often surprised by this step. Although good makeup can cover up virtually anything – from pimples to uneven skin tone – having nice, well cared for skin by using the right skin care products gives you a natural glow from within and is the foundation for great makeup.
With that being said, wash your face twice a day! Do so once a day before you apply makeup and once especially in the evening to take your makeup off.
Before you continue reading about the How to make makeup look good there is a special announcement we would like to share with you. Catalogs.com has negotiated special medicare rates for our vibrant community of seniors. If you are over the age of 60, you can head over to our Seniors Health Section which is full of information about medicare. All you need is your zip code and a few minutes of your time to potentially save 100s of dollars on your medicare bills.
Going to bed with makeup on is like skin suicide. All the grime and gunk that gets trapped into your pores sitting on your skin overnight is not ideal, and can cause breakouts, blackheads, etc. Therefore, make a promise to yourself to wash away the day by cleansing, toning, and moisturizing. 
~
Priming

Many people skip this step. No matter how small you think your pores are, they change throughout the day and get larger. Therefore, use a primer. It does exactly what is sounds like it does (think paint primer); it prepares your skin for the makeup. On top of shrinking pores, many primers control shine throughout the day and allow makeup to last longer.
One thing you must know about primer is that a little bit goes a long way. Apply a pea sized amount to your hand and blend in circular motions, starting at where your pores are largest and blending outward. Pores are usually largest on the lower middle forehead and the area that falls between the cheeks and mid nose.
Brands such as Benefit, Too Faced, and Makeup For Ever are excellent.
Foundation

With so many foundation varieties out there, there is no excuse to not find the perfect one for yourself. Powder foundations can actually offer great results, but when you really want to go all out with a Goddess-like finish, opt for liquid foundation. There are two types of liquid foundation: sheer and matte. Sheer offers light to medium coverage, while matte is usually oil free and offers medium to full coverage. Choose whatever coverage works best for you; the steps after that are the same no matter what you choose.
Many of the artists at the makeup counter will encourage you to buy a makeup brush, but using your fingers to apply makeup works wonderfully, as this is what allows you to have the most control over how the makeup goes on. Just make sure your hands are clean.
Shake the makeup before you apply it to the top of your hand and start with a small amount – you can always add more. Dip your middle finger in the makeup and dot your inner cheek, dip again, and dot somewhere near the your inner cheek again. Repeat on the other cheek, dot twice on the forehead, once on the nose, once on the upper lip, and once on the chin. Starting on the cheek you started with, blend the makeup in circular outward motions until you reach your neckline and hairline. Repeat this step for every section of the face. You may also want to blend some of the makeup past your neckline just in case the makeup shade is a tad bit off.
Concealer

Don't fool yourself into applying this before foundation – most of it will just smudge off if you do so. First, select a color that is slightly lighter than your foundation. This will brighten up your under eye area and make you look well rested. Next, pat (don't rub) on the concealer, starting where the circles are the worst. The middle finger works best when doing this. Combine all of these steps and you won't look like you were up until 5 am.
Powder

Now that you've applied your foundation, don't forget to set it with powder. Make sure you use something labeled along the lines of "finishing powder" rather than "powder foundation". Powder foundation on top of liquid foundation will make your makeup look cakey. If it comes with a circular applicator you can use it, but if not use a stipple brush (the brush with the white tip) and lightly tap the powder on your face. Don't forget to pat off excess powder when applying.
Bronzer
No, you don't have to pull a Snooki and turn your face orange. In fact, that's not what a good bronzer does. Instead, a bronzer prevents you from looking washed out and also adds dimension to your face. Pick a color that works for your skin tone (don't go too light/too dark for your skin tone). Swirl your brush into the bronzer, tap off excess, then make a fish face to bring out your cheekbones. Apply to your cheekbones, temples, top of nose, lower chin, and slightly downward along your jawline (perfect for when you take pictures highlighting your profile). Voila! You now have a sunkissed glow.
There are many different tools you can use to make your makeup look good –  from lipstick to highlighter to eyeliner to eyeshadow. The possibilities are endless, so be creative! These steps aren't locked up in the firey pits of Hollywood for just the famous to see; anyone can be in the know about flawless makeup application!
Popular Savings Offers