When you buy something using the retail links in our posts, we may earn a small commission. Catalogs.com does not accept money for editorial reviews. Read more about our policy
here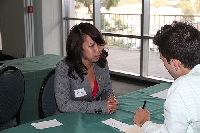 How to screen job applicants through interviews and background checks
The notion of how to screen job applicants is an interesting one. If you take the most qualified candidate for the position, they may end up moving on after only a months at the firm. If you end up with someone who is ill-suited for the role, they may end up slowing down others in their attempts to learn the position and grow into their role. So, what do you do? 
And how do you choose the right candidate who is — in a word — perfect? A background check can be one way in which to find out how well suited the candidate is for your firm. The other will be a formal interview in which it will be imperative for you to understand the questions that need to be asked as well as the methods that can be used in order to glean the most important facts about the candidate.
For Starters
You'll want to dive into resumes in order to find the truly qualified candidates for the role. Schedule interviews with each and prepare accordingly. What this means is to send them information on the position and let them know who will be interviewing them. One way to change things up and include a variety of perspectives is to allow for the candidate to be interviewed by more than yourself. For this particular interviewing technique, it's important to try to have the same interviewers for each candidate in order to ensure a fair balance of opinions.
There are different interview formats to follow and for more information on the variety of titles, head over to the All Business website. Examples of different interviewing formats include:
Behavior Description Screening Format
Oral Screening Boards Format
Situation Screening Format
Comprehensive Structured Screening Format
Unstructured Screening Format
~
No matter what format is used, the strengths and weaknesses of the candidate will be ascertained. Questions revolving around past work experiences and choices made as they pertain to the open position will be prevalent. The employer or HR professional will:
Focus on open ended questions so that the candidate can facilitate an answer longer than just yes or no
Try for a few challenging questions for a response that is spontaneous; see how the candidates are able to think on their feet
Try to stick to a ratio of about 25 percent talking; the rest should consist of listening to what the potential worker has to say in response
Use notes and try to ask the same exact questions of each different candidate if at all possible. The interview should focus mainly on the skill necessary to complete the work and the attributes learned from previous work experience and how it might transfer into this new position.
References and Background Screening
Be sure to look into references from potential workers; look for the standard three references from the candidate. Why is this so important? Well, according to an article written by Sheri Mazurek — a HR professional who has worked in the field for more than 15 years — 56 percent of applicants provide false information on the resume or application.
Look to national or statewide searches to find information on candidates instead of county research. This also means do not just check the current county of residence for the potential worker as this can be misleading. One should look into all counties of residence in which the worker may have worked or attended school over the past 7 to 10 years.
It should be a thorough background check of the candidate's past and may bring up discrepancies in such areas as education, previous salary, employment, and criminal histories. To find the best possible applicant, these methods are necessary. For your company — and in order to avoid a high employee turnover rate at your firm — it's important to invest both the time and resources in learning how to screen job applicants properly.
Resources:
AllBusiness.com: Techniques for Interviewing and Screening Job Applicants.
ManagementHelp.org: How to Screen Job Candidates.
Above photo attributed to bpsusf