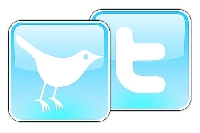 Heard friends talking about Twitter or Tweeting? Here's how you can join in!
You hear it everywhere lately. "I saw it on his Twitter." "She Tweeted it." From friends and family to famous people, you can find nearly anyone on Twitter. Following those who interest you and sharing your own thoughts and activities is free and very simple.
Twitter is a social networking tool, often called "microblogging." A "tweet," or post of your status on your Twitter account, is restricted to 140 characters.
In just a few simple steps, you'll be Tweeting!
1. Sign up for a Twitter account.
Go to Twitter.com and click on the "sign up" button. Again, it is free. You'll be asked for your name and email address and you'll choose a screen name for Twitter. This is the name under which your posts will be found. You can be creative or keep it simple.
2. Choose who and what to follow.
Look through Twitter's suggested topics and find those that match your interests. If you like to knit, you can find knitting groups and pages. If you're a sports fan, follow your favorite team. Whatever Twitter account you choose to follow, you'll see its posts on your own Twitter home page. You can always change your mind and add or delete interests later. You'll also be given a chance later to search for people or organizations by name.
3. Find friends and family.
If you want to, enter your email addresses and passwords, and Twitter will direct you to email contacts who already have a Twitter page. Your information will not be shared with anyone nor saved by Twitter, so this is safe.
~
4. Personalize your page.
This part is optional, but can be fun. You can add a picture and some information about yourself to your Twitter profile for your friends to see. Click on "settings" and then "profile." You can also link Twitter to your phone, so you can Tweet and read updates while away from your computer. Click on each tab along the top of your Twitter home page and select the options, upload images for your profile photo and your background, and elect your settings. These can be adjusted at any time.
5. Tweet and Retweet!
You're ready to start! You can Tweet whatever suits you, from updates on what's going on in your life to your opinions on just about anything. You can also reply and Retweet. Hover over anyone's post, and on the lower right you'll find options to do both. Reply means just what it sounds like: comment on your friend's Tweet and have it appear on his/her page. To Retweet is to find something you like and want pass it on. The Tweet will appear on your page (giving credit to the original poster, of course).
6. Check out trends.
On the right side of your home page, you'll see a list of trends. You can adjust the settings for these, but the general idea is that you're seeing a list of the most popular topics being Tweeted. From politics to popular movies and TV shows, you can join in a discussion on almost anything by following the trends.
If you run into trouble or get confused, Twitter's help button is on the upper right of every page. Have fun!
References:
Twitter
Twitter Help Page
How to Get Started on Twitter