How to take care of a bike
By Catalogs Editorial Staff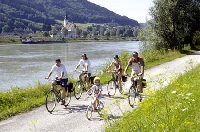 Three easy tips for keeping your bicycle in top condition
There is nothing more exhilarating than careening down a hill on a bicycle, winding through country roads on a bright summer day, the wind in your face, sunshine on your back, beautiful scenery whizzing by.  Avid cyclists have compared the activity of bicycle riding to the physical and spiritual attainment of Nirvana.  
In recent years, the sport of cycling has experience a significant increase in popularity.  Perhaps this is due to environmental factors, as baby boomers and younger generations recognize bicycles as one of the most environmentally friendly and economical methods of transportation.  
Even national organizations such as the Rails-to-Trails Conservancy have gotten in on the cycling action.  The Rail-to-Trails Conservancy has made it their mission to create a nationwide network of trails from former railway lines and connecting corridors, in order to to build healthier community spaces.
Before you continue reading about the How to take care of a bike there is a special announcement we would like to share with you. Catalogs.com has negotiated special medicare rates for our vibrant community of seniors. If you are over the age of 60, you can head over to our Seniors Health Section which is full of information about medicare. All you need is your zip code and a few minutes of your time to potentially save 100s of dollars on your medicare bills.
There is no doubt that riding a bicycle is an ideal way to explore nature, experience the world, and keep fit.  However, one of the most important aspects of owning or purchasing a bicycle is learning how to take care of your bike.  Regular inspections are critical to keep your bike in proper condition and prevent dangerous accidents.  
If you are considering purchasing a bike, or seeking information on how to take care of your bike, here are some simple tips and recommendations.  If you don't have the time, skill or knowledge to keep up with the necessary bicycle care regimen, it is well worth paying someone else to assist you.  Many bicycle shops offer reasonably priced servicing packages.  Call your local bicycle shops to price out care, cleaning, and repairs.
~
How to Take Care of Your Bike:  Three Valuable Tips

CLEANING:
When it come to how to take care of your bike, keeping it clean is the number-one most important tip.  If you ride your bike regularly, inevitably it is going to get dirty.  Dirt, sand and mud will cause parts and elements to wear out prematurely. 
For example, bicycle break pads should be replaced regularly, as they rub against the wheel and sustain wear.  However, any excess dirt caught between the wheel rim and the brake pad will result in prematurely worn pads, rim damage, and compromised brake function.
Make it a point to wash your bike after long rides, or as frequently as you are able.  Wash the bicycle with warm soapy water, rags and brushes that will enable you to scrub the dirt, and scum from the front and rear derailers, cables, wheel rims and brakes, chain and sprockets.  Specialized chain scrubbing tools are sold by many bicycle retailers.  
Most cyclists recommend using green or all natural soaps, particularly if you plan to wash your bike outdoors.  When washing, avoid getting water into elements such as gear shift levers, wheel bearings, or crank bearings.
TIRES:
Second only to wear and tear resulting from dirt, the biggest problem cyclist encounter is with tires.  Many inexperienced cyclists tend to ignore the tires.  This can lead to dangerous issues, and here's why:
Bicycle tubes are made from a porous type of rubber called buytl rubber, which allows air to slowly seep out.  If tires are not regularly re-inflated to proper volume, they will be too soft.  Apart from being much harder to pedal with, soft tires also lead to rim, tube and bicycle wheel damage.  Soft tires wear out much faster, and can pop unexpectedly, leaving you stranded.
To ensure that tires are properly inflated, pump up road bike tires before every ride, and check mountain bike tires every week.  Use an effective pump, ideally, a bicycle pump with a built in gauge, and observe your bicycle manufacturers information about recommended tire pressure.  Usually, the recommended tire pressure information is printed on the sidewalls of bicycle tires.  While pumping tires, also take the time to inspect them for cuts, punctures, tears, wear, or other potential problems.
An important care tip, and also bicycle safety recommendation is to learn how to correctly pump up your tires, as well as how to change a tire.  When ever you are riding, it is wise to care a tire repair kit, portable bicycle pump, and spare inner tube.  Even if you do experience a flat tire during a ride, you will be able to easily repair the problem if you are prepared with the correct tools.
CHAIN LUBRICANT:
Adding some chain lube to your bicycle chain will help to keep your chain gliding smoothly and effectively as you peddle and shift gears.  White Lightning Epic Ride, Pedalite Green Oil, Bike Bright Chain Lube, Finish Line Wax Lubricant are all examples of recommended lubricants for bicycle chains.  
Proper application of chain lube involves dripping the lube onto the chain as you turn the pedals by hand.  Use a rag to wipe off any excess lube.  As the chain lube dries, it will actually serve to prevent dirt from sticking to the chain.
Popular Savings Offers