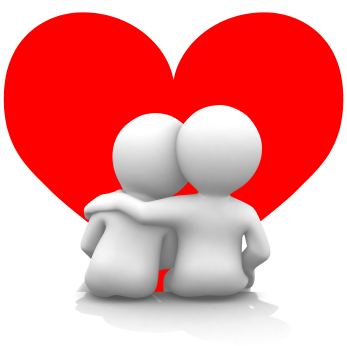 Ten tips for using online dating sites and maybe find the love of your life
Online dating is becoming an increasingly prevalent and accepted method for meeting people and initiating romantic relationships in contemporary society. Stories about successful marriages that began through online introductions have gained public notoriety, and even celebratory accolades.  
The success of online dating has been attributed to ever-advancing computer technology, and the rising popularity of social networking. Polls today prove that the vast majority of computer users are familiar with how to use online dating sites. In 2005, American citizens spent over 500 million dollars on online dating and internet personals. By 2011, these financial spending statistics are projected to reach over 930 million dollars.
In a 2002 story pertaining to the age of social networking and rise of internet dating, Wired Magazine editors expressed their thoughts on the future of online dating:
?Twenty years from now, the idea that someone looking for love without looking for it online will be silly, akin to skipping the card catalog to instead wander the stacks because 'the right books are found only by accident.' Serendipity is the hallmark of inefficient markets, and the marketplace of love, like it or not, is becoming more efficient?
Recent surveys show that the majority of online dating experiences are positive.  However, anyone interested in  learning how to use online dating sites should take the time to research the variety of sites available, as well as fully educate themselves about the risks and importance of maintaining privacy.   
~
The biggest dangers associated with online dating are online predators, sexual violence and internet fraud.  The question of how to use online dating sites in a safe way to avoid these dangers is a highly pertinent issue that experts are constantly striving to solve.
If you, or someone you care about is using online dating sites to meet new people, here are ten important tips and suggestions that will help them to stay safe and make the most of their online dating experience. Also included is a list of the most highly ranked online dating websites.
How to Use Online Dating Sites Safely and Effectively:  
1.  Some online dating sites are free, while other require a paid membership, or offer various membership levels associated with different pricing. Take advantage of the free sites before providing credit card information to any sites that require paid membership. If you do opt for paid membership sites, do all your background research to ensure that the sites are reputable and not fraudulent.  
2.  Here is a list of reputable, online dating sites that are free or that offer free trials and tiered pricing structures: PlentyofFish.com, eHarmony.com, OkCupid.com, Match.com, LavaLife.com, Match.com, YahooPersonals.com, MatchMaker.com, Gay.com, Mingles.com, BlackSingles.com, ChristianMingle.com. Some of these sites are more conservative than others, so select the one that provides the type of match-making you are comfortable with.
3.  Here is a list of reputable online dating sites requiring membership fees or paid subscription:   SugarDaddyforMe.com, GreatExpectations.com, WealthySingle.com. As the site names imply, the theme of for-pay dating sites ranges widely.
4.  Online dating sites enable eligible singles to peruse a provider's database for other compatible individuals, based on a set of search criteria that can be modified to reflect an individuals unique traits, desires. For example, criteria such as age range, gender, location, smoker/non-smoker, education and salary can all be pre-set. The biggest tip for finding love online is to honestly select search criteria that most accurately reflect your lifestyle, characteristics, personality and desires.
5.  While it's important to be honest and specific with your selection of criteria, being too narrow can also work against you. It's wise to start out being specific, and then broaden your search criteria over time, as you learn more about particular dating sites.
6.  When you fill out your online profile be very careful about what information you share. On your profile, avoid sharing your full name, e-mail address, phone number, home address or any information about your employer or workplace. Many people create a separate email address to use in online dating profiles. Do not use your workplace information or email address.
7.  Adding a recent photo of yourself is one of the best ways to enhance your online profile, and attract attention from potential suitors. In a recent poll, the majority of subscribers to online sites admitted to passing-over profiles that did not contain photographs.   
8.  Complete your full profile on the online dating site you select. Strive to make your profile honest, upbeat, interesting and positive. Avoid posting negative comments such as ?I'm so lonely, I just haven't had any luck with relationships lately,? or ?I'm only creating this profile because my friends encouraged me to.?
9.  When you converse with other singles via phone or e-mail, enjoy chatting but keep these privacy boundaries in mind. Online predators may ask about specific personal information as though they are trying to make a more intimate connection. Keep your answers vague until you have truly gotten to know someone. Do not mention a home address, work place, etc.
10.  If you decide to meet another single for a date, always meet in a public space. A coffee shop, a restaurant, a museum, etc are all ideal places to meet for a first date. 
Resources:
Top 10 Online Dating Sites
The Risks of Online Dating