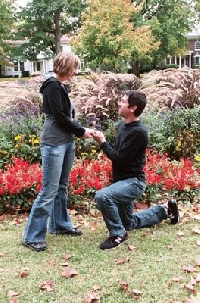 Make engagement gifts special by personalizing them and selecting unique items
A dear couple who you've been friends with for quite a while finally announces their engagement, much to everyone's delight. They make the perfect couple and everyone who knows them is glad to see them stepping forward to the next level of commitment: the engagement. Soon, there will be a flurry of wedding plans and preparation, finding a florist, a caterer and sending out invitations. So, what better way to start things off in honoring their relationship commitment than with an engagement party?
A wedding engagement celebration in the couple's honor is the perfect time to shower them with gifts and love as they prepare to start their new lives together. What would be the perfect gift for the perfect couple?
Many ideas for engagement gifts will likely include basic, traditional gifts such like:
* scented candles
* boxed sets of romantic music
* chocolates
* flowers
* jewelry (hair pins, broaches, tie pins, cuff links, etc.)
But, to make things extra special and memorable, think of ideas for engagement gifts that the couple will not forget. Gifts that are personalized are always a hit. So are gifts that increase in their emotional value over time, those that are durable, and those that the couple will have for many years to come. For engagement gifts that are truly unique, consider:
Spa Time
With all things spa-related, ideas for engagement gifts can include a booking at a nice, local spa for "his-and-hers" spa treatments including facials, mani-pedi's or mud peels. You can gift them any spa service where they are pampered and can enjoy one another. In lieu of booking the service for them if they're in a different town, give them a gift certificate for the local spa in their area.
Magazine Subscriptions
What do they like to do together? Golf? Cook? Scuba dive? Whatever it is, surely there is a magazine for it. Give the couple a subscription to the magazine of the pastime that they BOTH enjoy doing together.
Music
Here's a twist on the regular romantic music gift: have a CD made of the couple's favorite music that they share. You may have to do a little investigating here, but find out what special songs they share. For instance, what song was playing when her fiance asked the big question? What were they listening to when they shared their first kiss? What song(s) do they both like to listen to when they're cooking their favorite pasta dish together? There are bound to be a myriad of song ideas for engagement gifts that will be very special to the couple.
 
Luggage, handbags, travel bags
A set of personalized luggage for the couple is a nice touch on a basic idea. They will need it for their honeymoon and trips they take as a young couple. Although a good set of luggage can be a little high-end, it is definitely a gift that they will be able to enjoy for many years.
Journal
A wedding planner journal gives the couple the opportunity to chronicle their commitment journey towards wedded bliss. You may be able to have the planner personalized for an extra-special touch. 
Gift Certificates
Always a nice, welcomed touch when you've run out of ideas for engagement gifts, or for the couple who already has everything. Gift certificates to their favorite places or restaurants are always good.
Uh-Oh's
Caution: these types of gifts are only for those couples who you know well and are likely not to offend. What are they? Naughty gifts of course! The kind that make your eyes widen, your face turn red and takes your breath away. Gag gifts, sure, but you can put a spin on it by giving them gifts(s) that reflect their personality (and maybe even make them blush!). Ideas? You'll have to be creative here all by yourself!
Here are some other ideas that can be used at the wedding:
A wedding guest book
You can have it personalized as well, and give them one less thing to worry about having to get.
Cake Server
Always a keepsake, an engraved cake server will make a nice addition to their union, and can be used on the big day.
Framed Photo
Here's what can make this gift special – – find a photo of a fun, touching or romantic moment of the couple (whichever would best fit their personalities) and have it professionally framed as a gift. Not only is it unique, but also a special thought at having taken the time to have it professionally presented. Surely it will warm their hearts and may even surprise them!
Whatever types of gifts you decide to get in honor of the newly engaged couple, the most important thing to keep in mind is to give them something that they will enjoy, something that reflects their personality as a couple and a gift that will make a lasting, memorable effect.