Planning a living room furniture layout
By Catalogs Editorial Staff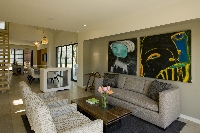 Tips for arranging Funiture: create a relaxed, comfortable and welcoming room
The process of planning a
living room furniture
layout has been compared to the challenging task of piecing together a jigsaw puzzle. Many interior designers recommend sketching out your decor and furniture plans with a pen and paper, prior to lifting or moving any heavy furniture.  
One simple method for planning a living room furniture layout with pen and paper is to cut out pieces of paper ? to scale ? in the shape of your furniture items. Then, on another piece of paper draw a miniature area map/blueprint of your living room. It will be easy to brainstorm different layouts by shifting small pieces of paper around a page.  
Another design method that may serve helpful for technology savvy home owners is a type of computer software that allows users to create realistic 3D Models in just minutes. These computer programs and software packages can be used to plan interior design projects as well as remodeling, landscaping, and even architectural home design. 
Before you continue reading about the Planning a living room furniture layout there is a special announcement we would like to share with you. Catalogs.com has negotiated special medicare rates for our vibrant community of seniors. If you are over the age of 60, you can head over to our Seniors Health Section which is full of information about medicare. All you need is your zip code and a few minutes of your time to potentially save 100s of dollars on your medicare bills.
Examples of these computer drafting and design software packages and programs include Chief Architect Software, Auto Cad, Home Designer Suite, Fast Plans, and Design Workshop Classic.
~
As you strive toward planning a living room furniture layout that is tasteful, functional and appeals to your personal style, here are some helpful tips to keep in mind.
Professional Design Tips for Planning a Living Room Furniture Layout:
1.  Arrange your furniture around a central focal point. The focal point of your living room may be a home theater system, a fireplace, a flat screen television, a grand piano, or an eye catching piece of artwork.
2.  Base your furniture on people's needs. Think carefully about the type of home entertaining you engage in, and consider how the room is most often utilized.
3.  Strive to create a relaxed, comfortable and welcoming environment for your living room.
4.  Arranging the room into comfortable conversation areas is the best method for giving the room a welcoming atmosphere. According to professional home decorators and interior designers, there should be no more than 4 ? 8 feet of distance between sofas, love seats and chairs in arrangements that foster conversation. Less than four feet of distance between chairs and sofas will make your guests feel cramped. More than 8 feet of distance will make conversations strained and difficult.
5.  Of course, it is also important to consider legroom spacing between items such as sofas and coffee tables. Interior designers and home decor experts specify that leg room spacing should be at least 14 to 18 inches.
6.  If your living room is small, aim for creating one main furniture arrangement that offers a comfortable design for relaxed conversation. If your living room is large, you may wish to break up the space into two or three distinct furniture grouping where people can gather and converse face to face. Placement of area rugs, and spacing of walkways in between furniture groupings are simple design methods for breaking up distinct arrangements.
7.  If you do posses a large living room which you wish to divide into several more intimate furniture arrangements, remember that it is still important to carry your overall decor theme, colors, and patterns equally throughout all the arrangements. To unify the furniture groupings, use identical area rugs, matching coffee tables and lamps, and complimentary furniture colors, textures, fabrics and patterns.
8.  Another helpful tip for planning a living room furniture layout is to think in pairs as you purchase or select your furniture. This will help you to develop a cohesive decor theme for your room. For example, if you have a beautiful, functional piece of furniture, don't let it stand alone! Find it a complimentary partner. Select two matching end tables, or two upholstered chairs of the same size and shape, or two similar lamps.  
9.  If identical furniture or decor items simply can not be found, strive to coordinate pairs of similar items with unique touches such as matching lamp shades, matching slip covers or matching finishes for wood work.
10.  Establishing clear entrance and exit pathways into your living room will keep your room from seeming cluttered or over-furnished. Be sure these pathways are free from obstacles that might cause guests to stumble or trip. Ideally, pathways between furniture items or household decor should be at least 2 to 3 feet wide.
References:
US Dept of Labor on interior design
Interior Design It Yourself
Popular Savings Offers