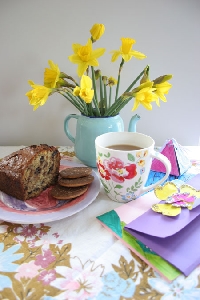 Simple Mother's Day breakfast ideas are perfect for little hands
It's almost Mother's Day!  And what could be better than a special breakfast for a special mom?
Even if your kids are little, it's important to get them involved in the preparations. But what if your children are too small to cook at all? Forget the eggs Benedict! Here are some simple Mother's Day breakfast ideas that even tiny hands can do well.

Five easy Mother's Day breakfast ideas
Donuts — Take the kids to your local donut shop and and let them pick out two of the prettiest donuts in the store. Bright colored sprinkles, festive icing or rich chocolate toppings are all good choices for mom's special breakfast. At home, arrange them on a plate and serve with a glass of juice on a

pretty tray

— beautiful!
Waffles with all the trimmings — Save the homemade waffles for when the kids are older. Get some good Belgian waffles in the freezer section and let the kids decorate them for mom. Whipped cream, berries and chocolate sauce are all good choices, but other fruits, coconut, chopped nuts or sprinkles can work well too.
Cake and cookies — This is one of those Mother's Day breakfast ideas any kid will love to prepare — and share!  Get a small cake at the bakery or store. Have them pick out a couple of pretty cookies, too. Slice the cake into thin slices, then have them arrange a couple of slice on a plate with the cookies. Add some juice or tea and you have the perfect kid-friendly Mother's Day breakfast!
Toast and jelly – An old standby, toast and jelly is always a good choice for breakfast. Let them pick out the

jelly or preserves

. Even waiting for the toast to pop out of the toaster is fun for most little kids, so keep them involved in the preparation. Let them butter the toast (a soft butter or margarine is a good choice to keep the bread from ripping) and add the jelly. Don't worry about sticky hands…it's part of the memories.~
A continental breakfast — Make mom's breakfast elegant with a buttery croissant, a few sweet berries and a cup of cocoa or glass of juice. Or if she prefers a sweeter choice, let the kids pick out a danish or cinnamon bun for her plate. Simple, yet always a favorite.
Make it pretty
Don't stop with the food.  Try these Mother's Day breakfast ideas for the table or tray to make it look special, too.
Homemade cards — Even a few colorful scribble on a paper can become a special card when they're made by little hands.  Give the kids paper and crayons and let them create masterpieces. Stand them up by her plate or stack them on the tray.
Flowers — A few flowers handpicked by the kids will melt mom's heart. Even dandelions are okay. In fact, they're just right.
Pretty napkins and plates — Serve mom's breakfast on your prettiest plates. Add a bright napkin to make it even better. Use plates you have, or head for the store for dozen of colorful choices in paper plates. A budget saving hint: the dollar store often has pretty glass or ceramic plates for, what else, a dollar!  Let the kids choose one, along with a pretty package of napkins. A matching mug or cup would complete the special look, all for under $4.00.
No matter what you do, having little hands helping will make Mother's Day something special. Create a memory this year. Little hands grow fast.