Motorcycles for women riders
By Catalogs Editorial Staff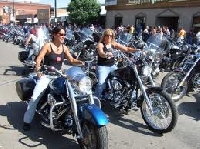 A variety of motorcycles for women riders are available
There's almost nothing sexier than a woman on a motorcycle. There's just something about femininity on a motorcycle that is gorgeous and powerful.
If you are a female and are interested in riding, you'll have to choose the correct bike. Not all bikes will work for you or make the experience enjoyable. Fortunately, a variety of motorcycles for women riders are available and will work for your frame.
When looking at bikes, ladies may want to consider these using the criteria listed below:
Before you continue reading about the Motorcycles for women riders there is a special announcement we would like to share with you. Catalogs.com has negotiated special medicare rates for our vibrant community of seniors. If you are over the age of 60, you can head over to our Seniors Health Section which is full of information about medicare. All you need is your zip code and a few minutes of your time to potentially save 100s of dollars on your medicare bills.
Harley Davidson Sportster
Harley Davidson Deluxe
Suzuki Boulevard
Kawasaki V-Star
Height
Although some women can get away with riding on tall bikes, some have difficulties. Being able to place your feet on the ground is essential when riding a motorcycle when you start and stop. If your motorcycle boots, which keep your feet safe, can't reach the ground, you are in a pretty unsafe situation.
For this reason, women riders often benefit from riding on shorter bikes. Motorcycles that are on the petite side allow shorter legs to ride comfortably and safely. They also allow your legs and feet to reach the foot rests easier than the taller bikes do. Swap out factory parts for adjustable foot pegs and controls, as well as mirrors and other parts that best accommodate your height. When you feel more comfortable and confident on your bike, the more you'll enjoy the experience and ride.
A lower bike also means a lower suspension, which typically makes riding such a powerful vehicle easier.
Width
As you may have guessed, those with shorter legs may have harder times getting their bodies around thick and wide bikes. Women often benefit from bikes that are on the thinner side. They are typically easier to maneuver and handle than the wider bikes are.
If the bike is too wide for your body, you are riding in an unsafe manner. Not only are you in danger of falling off, but you can't move the bike in the way you should. For instance, you won't be able to turn corners properly, which could cause you to get into an accident.
A bike that is too wide may also make it difficult for you to reach the foot rests and the ground properly, which is hazardous for both you and other drivers around you.
Weight
Many women riders find that riding motorcycles that are light in weight are typically easier to handle. They can move the bike easier and are better able to handle it. If the bike is too heavy, you may fall or crash because it is too difficult to move it in the proper manner.
Women bikers may also feel more comfortable on lighter-weight motorcycles because they may be safer in an accident. If an extremely heavy bike falls on top of you during an accident, you can be seriously injured, likely more so than if a lighter bike falls on you. A large bike could break a few bones and leave you pinned where you are. A bike that is lighter in weight can cause less damage and may help you be able to escape out of your situation.
Speed
Not all bikers feel comfortable going fast on the open road. If you don't have this need for speed, go with a bike that isn't made to ride extremely fast. Such bikes will leave you feeling more comfortable, which can make you enjoy your experience much more.
If you do want a speedy bike, however, go for one that offers such a thrill. A variety of bikes that are lightweight, short and thin in size also reach high speeds. However, if you are riding such a bike, make sure you don the full gamut of women's motorcycle safety equipment. This means a coat, pants, gloves, helmet and boots. And you don't have to sacrifice style just to stay safe. A variety of safety gear comes in fashionable colors and designs.
Many motorcycles for women riders allow you to feel comfortable and safe while riding. Choose one that fits you best and feels good. And, of course, one that looks good is ideal, as well.
Resources:
Motorcycles and Women: Which is the Best Motorcycle for Women?
Harley Davidson: Women Riders
Popular Savings Offers