When you buy something using the retail links in our posts, we may earn a small commission. Catalogs.com does not accept money for editorial reviews. Read more about our policy
here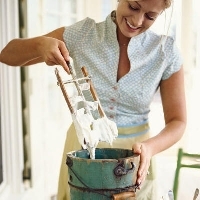 You scream, I scream, we all scream for old-fashoned ice cream!
Ice cream is the ideal, cool and delicious summertime treat for children and adults – of all ages.  This famous frozen dessert is easy enough to make at home using an old-fashioned ice cream maker, a mixing bowl and beaters, or even a blender. 
Anyone wondering how to make ice cream at home in their own kitchen will surely benefit from these simple recipes. Or, select your own fresh, rich ingredients and flavorings for a unique delectable dessert.
How to Make Ice Cream the Old-Fashioned Way:
Early ice cream makers, featuring wooden buckets and rotary paddles, represented a major breakthrough in the history and technology of how to make ice cream. This was because early ice cream makers first utilized the effective technique of mixing ice with salt to lower the temperature of the ingredients during the mixing process.  
Today, early ice cream makers can be found at tag sales, garage sales, antique stores and auction houses. A hot summer day can be a great opportunity to teach your children or grandchildren a history lesson by demonstrating the mechanics of an old fashioned ice cream maker. Here are the instructions for a Chocolate Custard Ice Cream recipe, made in an old-fashioned ice cream maker.
~
Recipe for Chocolate Custard Ice Cream:
4 egg yolks
1/2 cup granulated sugar
1/2 cup unsweetened cocoa powder
1 cup milk
1 cup heavy cream or whipping cream
2 teaspoons pure vanilla extract
4 cups Crushed Ice
® cup Rock Salt
Instructions for Chocolate Custard Ice Cream:
1.  Combine egg yolks, and sugar and cocoa in a medium bowl and beat until the mixture thickens. Then set aside.
2.  Using a small, sturdy saucepan, simmer the milk over low to medium-low heat, just until it begins to bubble around the edges. Remove from heat.
3.  Slowly stir the hot milk into the bowl of egg/sugar/cocoa. Use a wire whisk to beat the mixture until it is frothy. Next, pour this mixture back into the saucepan and heat until it begins to thicken ? no more than ten minutes. Use a cooking thermometer to ensure the temperature of the mixture reaches between 170 and 180 degrees. If the mixture boils to a temperature any higher, the ingredients will curdle. 
4.  Remove your chocolate custard mixture from the heat and let cook. Refrigerate the mixture until completely chilled or, 4? 24 hours. By letting the mixture cool over night in the refrigerator, the whipping qualities will be improved, giving your final ice cream a smoother texture.
5.  Once the chocolate custard mixture is cold, stir in the heavy cream and vanilla extract. The ice cream is now fully prepared for the freezing/churning process in your old-fashioned ice cream maker.
 
6.  Transfer the mixture into the metal can in the center of your ice cream maker. Add rock salt and ice to the wooden barrel of the ice cream maker. Churn the mixture in your ice cream maker by hand, or automatically if it has an electric motor. Be sure to follow the guidelines specific to your particular machine. The mixing process usually takes about 20 to 30 minutes of consistent churning motion. 
7.  Enjoy your ice cream once it is churned to a satisfactory condition! Store in your freezer.
How to Make Ice Cream in a Blender:
If you don't own an old-fashioned ice cream maker, or you simply don't have the time or patience for the more complex ice cream recipes, why not try making ice cream at home in your own kitchen blender?

Recipe for Vanilla Ice Cream in the Blender:
ª cup of milk
1 teaspoon of vanilla
2 cups of ice cubes
4 tablespoons of sugar
1 teaspoon of salt
Instructions for Vanilla Ice Cream in the Blender:
1.  Begin by adding the ice to the blender. Pour milk, vanilla, sugar and salt over the ice. (If you are lactose intolerant, substituting soy milk, almond milk or other milk varieties can be equally delicious.) Blend the mixture on high at first to crush the ice. Lower the speed as the mixture becomes creamy. If the ice is difficult to crush, try shaking the mixer to loosen the cubes, or push the ice cubes down using a spatula.
References:
Video: Old-fashioned ice cream maker
Kiplinger: 5 things to ask about ice cream makers
Homemade Ice Cream Recipes