When you buy something using the retail links in our posts, we may earn a small commission. Catalogs.com does not accept money for editorial reviews. Read more about our policy
here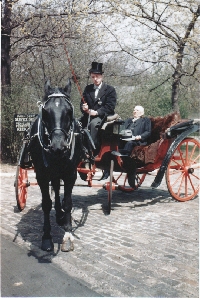 Early photographs of old New York transport the viewer back into time
New York City is a lot older than the art form we know as photography but old New York in early photographs speak volumes about the conditions and quality of life in eras long faded into the mist of time. Old New York in early photographs reveals a burgeoning metropolis transformed by industrialization, immigration and urban development. Trolley cars criss-crossing crowded city streets slowly ceded to the power of progress and the onset of the automobile, which would change everything forever. Return with us now to those gas-lit days of another softer time and place.
Old New York in early photographs reveals many images of trolley cars. They were so named because they had a stick in the back called a troller or a ?trolley pole? that connected to a live wire above to make the car go as far as Chicago. They evolved from stagecoaches and horse drawn omnibuses, which had developed when Brooklynites discovered the suburbs and could no longer walk to work. The city created the most diverse mass rail transportation system in America, consisting of surface steam lines, then elevated lines, cable cars on the Brooklyn Bridge, one lone monorail (from New Utrecht to Coney Island) and finally, street cars in the 1890s and subways about 10 years later. The baseball team was so named for scattered pedestrians known as ?trolley dodgers.?
~
What are some other early images of old New York?
Old New York in early photographs reveals Central Park, which is the very first landscaped park in America. It opened in 1857 and was designed by famous architects, Frederick Law Olmsted and Calvert Vaux. The beauty of Central Park lies in the fact that it appears to be natural, but in fact it is almost entirely landscaped. It contains several natural-looking lakes and ponds, extensive walking tracks, two ice-skating rinks, the Central Park Zoo, the Central Park Conservatory Garden, a wildlife sanctuary, a large area of natural woods, a reservoir with an encircling running track, and the outdoor Delacorte Theater, which hosts the "Shakespeare in the Park" summer festivals.
Although beautiful, the park, which was designed as an escape from the seamy undersides of tenement life for the immigrant poor populations, was for the most part, inaccessible to them due to the cost of transportation to the park (a nickel, which was a day?s wages) and the severe rules and regulations imposed upon visitors to the park. Old New York in early photographs depict sheep actually grazing on the Sheep Meadow from the 1860s until 1934. They were transported upstate because it was feared they would be used for food by impoverished depression-era New Yorkers.
Old New York in early photographs chronicles the development of the most important city in the world. The financial capital of America can be traced from its earliest days when Wall Street referred to an actual wall that blocked early New Yorkers against marauders. Photographic history tells its own unmistakable tale of progress and regression, victory and defeat and redemption and grace. Photography captures like nothing else the essence of time sifting through an hourglass by plucking one moment and memorializing it for all time.
Come visit old New York in early photographs. It is a journey well worth the taking and one you will want to repeat with your children and grandchildren.