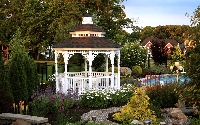 Outdoor elegance for your home is achievable with vision and investment
With gasoline prices way too high for anybody?s taste or pocketbook, more and more people are deciding to spend their vacation and leisure time in their own backyards. Even if you do decide to fly off to Vegas on your vacation, when you return to the roost you can always spend your after-work time in your own oasis that sits right outside your back door.
Creating outdoor elegance for your home will take some time, effort and money but it will pay back in spades because it will always be there. You don?t to drive a car or hop on a plane to get there.
Imagine the pleasure you will experience, day after day, when you gaze out at the wonderland that is complete with special installations like a gazebo worthy of anyone?s fantasy.
Even more rewarding is the fact that this was your vision and idea and you managed to execute it. No one else in the world has an area exactly like this.
GAZEBO
A custom-built vinyl or wood gazebo transforms your backyard into a retreat where you can sit and do nothing, if that?s your desire. You can read a book, gaze up at the stars or drink coffee or wine with your better half and simply relax. Mother Nature has a way of curing most ills. People need to take advantage of that.
Gazebos come in different sizes and shapes. The bigger the space, the bigger your gazebo can be.
PATIOS AND DECKS
But don?t stop there. If you don?t have a patio or a deck, create one or both. There is awesome patio furniture to choose from. You can extend your living area by a lot when creating a living space that exists beyond the walls of your house. When it comes time to entertain the extended family or everyone in the neighborhood you are, for once, going to have ample space to work with.

OUTDOOR RUGS
Choose from flagstone or brick for the floor. Research online and you can see the various materials that other homeowners have chosen. There are rugs designed to be used outdoors. These rugs tolerate the elements and create an even cozier atmosphere under the stars.
LIGHTING
Lighting is important so that you and your guests can see at night. There are many types of lighting that are specifically made for use on a patio. Not only do the lights have a functional purpose and allow you to see (as well as provide security for your home and property) but the lights themselves are beautiful and add to the attractiveness and festiveness of your outside enclave. You can put rope lighting around your deck or hang lights from the trees. It's your yard so decorate it as you please.
Add a spiffy umbrella to your patio table. This provides protection from the sun as well as enhances the beauty of your yard.

FLOWERS AND PLANTS
Don?t forget the flowers and plants. Start a perennial garden so you will have flowers each year. You can always add annuals to the mix. Once again, check online to see what other homeowners have done to create a gorgeous outdoor space replete with flowers, bushes, hedges and trees. Planting shrubbery gives you privacy.
~
PATH LIGHTS
Path lights lead the way up to your house and, in the back yard, they direct visitors to the patio or gazebo or wherever it is you and your friends want to roam. Path lights prevent people from tripping over stumps and other objects that may be in your backyard. Additionally, they?re pretty and add to the charm of your property.
WATER FEATURE
If you really want to go all out add a water feature to your backyard. A water garden may well end up being the focal point of your yard. There is nothing more soothing or relaxing than sitting next to water, perhaps even dipping your toe in, and listening to the trickling music of the water. Add a water fall or bird feeders. Create a seating area around the water feature because you are going to need it.