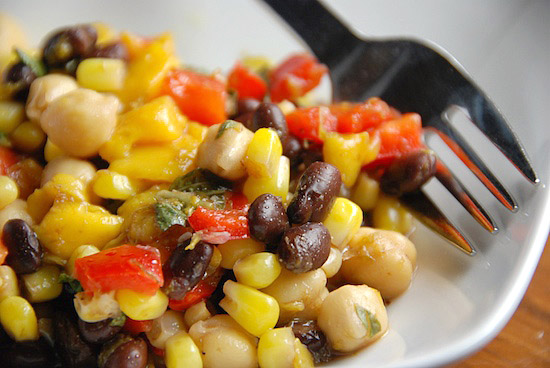 These picnic food ideas for large groups will serve your whole neighborhood
Picnics are a time for friends and family to get together, eat tasty food and enjoy the great outdoors. This is the perfect time for loved ones to catch up with each other over scrumptious food that is made with love.
If you've got a large picnic coming up, you'll need to make lots of outdoor-safe food that can satisfy a crowd. This means you'll need to make food that can sit outside without going bad and that will still look and taste good al fresco. Fortunately, a variety of picnic food ideas for large groups are easy to make and even easier to enjoy.
Mexican Bean Salad
This savory salad is full of bright, vibrant colors and bold and delicious flavors. Not only can it sit outside and hold up well, but it is easy to make, too. Drain and rinse one 15 oz. can each of pinto, black and garbanzo beans. Place the beans in a large, decorative serving bowl that will hold up to the outdoors.
Now chop up an onion and a red pepper and add it to the beans, along with one 10 oz. package of frozen corn and ª cup of chopped, fresh cilantro. Stir them all together.
In a separate bowl, combine 2 tbsp. each of red wine vinegar, sugar and lime juice; 1 tbsp. each of kosher salt and lemon juice and 1 tsp. each of cumin and black pepper. Then add ® cup of olive oil, ® tsp. of crush garlic, two dashes of chilli powder and one dash of hot sauce. Stir the mixture together, then pour it over the bean mixture. Use a large spoon to mix it together well. Add another dash of chili powder over top the salad, then place it in the fridge for a few hours.
When you're ready to serve, toss the salad, then add one diced avocado on top. This recipe can be easily doubled if you need to serve a really large crowd.
~
Antipasto Picnic Salad
What's a picnic without pasta salad? This salad is full of fresh, tasty ingredients and is easy on the taste buds and eyes.
Start by cooking one 16 oz. box of medium pasta shells, according to the package directions.
Then drain two 16 oz. jars of giardeniara, but reserve ? cup of the liquid. Pour the giardeniara into a bowl, along with 1 lb. of broccoli florets; ® lb. each of cubed mozzarella cheese, deli ham and salami. Add to that two packages of sliced and halved pepperoni, one large green pepper that is diced and one 6 oz. can of drained and pitted black olives. Stir all of the ingredients together with a big spoon.
When the pasta is done, drain it and mix it into the meat mixture.
To make the delicious dressing that will give the entire dish flavor, pour ® cup of olive oil into a bowl, along with ª cup red wine vinegar, 2 tbsp. of lemon juice, 1 tbsp. each of Italian seasoning and black pepper, the reserved giardeniara liquid and ® tsp. of salt. Mix all of the ingredients together, then pour it over the salad. Incorporate the dressing into the salad well so that all the ingredients are flavored with the yummy dressing.
Place the salad in the fridge to allow it to cool down and for all the flavors to marry. This salad should serve about 25 people, but can be doubled if need be.
Making food for friends is one of the simplest ways to show you care. Celebrate the warm weather by inviting your loved ones to share an outdoor meal with you. When you have a few picnic food ideas for large groups you are ready to cook and celebrate at anytime, which is particularly helpful when you are put on the spot.
Resources:
Food.com: Mexican Bean Salad
Taste of Home: Antipasto Picnic Salad Recipe