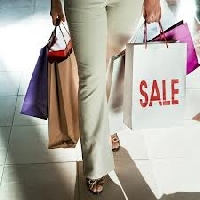 A power shopper gets the items she needs at the best prices
Aspiring to be a power shopper takes determination, concentration and charisma. Of course, you also have to have a knack for buying items. Whether you are looking to become such a purchaser for the holiday season, or at any other time of the year, a few actions can help you get there.
Organize
Looking for a sure-fire way to become frazzled and stressed out during your buying experience? If so, then try to do it without organizing first. You can't become an expert in the stores if you don't create a plan first. Fortunately, with the help of computer software, doing so couldn't be easier.
Using a spreadsheet program on your PC, tablet or phone allows you to make a list of what you are looking to purchase. Having a list that allows you to easily update and edit the information helps you see what you need and who you are buying it for.
For example, a spreadsheet allows you to write the name of the person, the intended gift, where you plan to purchase the item and how much you can spend. You are also able to create your own system that allows you to instantly see what has been done. ~
For instance, you can create a check mark, or take the person off of the list when you have bought the item. Highlight the object if it has been ordered but not yet received, then update the list when the gift gets to you. Create another symbol for items that are only ideas and not definite. Have fun with your system and use your imagination to make the process enjoyable.
Give Yourself Time
If you are looking to become a power shopper to get your holiday purchasing done, start early. In fact, give yourself the entire year to complete your list. Allowing yourself an ample amount of time may prevent you from becoming stressed out and anxious about purchasing the items. Doing so also allows you to do your research and obtain the gifts when they are at their best prices.
The day after Christmas is an excellent time to begin purchasing, as many stores have major sales. You will likely be able to get a majority of your shopping done here. Even if you aren't planning to give these items as gifts, you can still take advantage of the bargains that are taking place for yourself.
If you have to jam your shopping into a small amount of time, start early in the day. Getting there before the crowds increases your chances of getting the objects you want, instead of finding them to be sold out. Additionally, stay focused: plan out what stores you are going to visit and don't stray from the list. Getting distracted and going away from your plan can cost you time, money and a calm mind.
Get Help Where You Can
Who has time to visit every store or website to compare prices? You probably don't, which makes websites that do the work for you gifts in themselves. These sites often send you alerts via email when items go on sale or reach rock-bottom prices.
Some sites even allow you to enter a specific item and will keep track of where it is sold and for how much. You'll then get an alert as to when you should make the item yours.
Such sites also allow you to access them on the go, with the help of your smartphone. You can retrieve your email alerts or favorite sites from your phone while you are shopping, which can make finding the item at the best price just about effortless. Your phone can also allow you to visit social media sites, which may also keep you informed about sales.
Becoming a power shopper isn't something that is usually done without preparation. However, doing so is possible, as well as enjoyable.
Resources:
Oprah: One Amazing Power Shopper
Make Use Of: How to Become an Online Power Shopper With the Right Tools