Protecting and storing digital photographs
By Catalogs Editorial Staff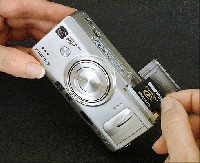 Innovative techologies: storing, sharing and archiving digital photos
Back in the day of traditional cameras and film, there were only two options for
storing and preserving photographs
. Photos could only be printed directly from film. Then, photographs, printed on photo paper, could be organized into physical albums. Negatives and slides could be archived in plastic sleeves and stored in cool, dry locations.  
Major advancements in technology have entirely shifted the way we think about and work with photographs today. The digital era has delivered innovative methods for taking, storing, sharing, manipulating reproducing and archiving photographs. Nonetheless, contemporary photographers still place tremendous value on personal photos that capture the treasured moments of life.  
Understanding the methods and new technologies for effectively protecting and storing digital photographs is critical step toward preserving your cherished memories. Here are some helpful tips and suggestions for photographers seeking information on protecting and storing digital photographs.
Before you continue reading about the Protecting and storing digital photographs there is a special announcement we would like to share with you. Catalogs.com has negotiated special medicare rates for our vibrant community of seniors. If you are over the age of 60, you can head over to our Seniors Health Section which is full of information about medicare. All you need is your zip code and a few minutes of your time to potentially save 100s of dollars on your medicare bills.
Options for Protecting and Storing Digital Photographs
1.  Memory Cards
Nearly all digital cameras today save photographs on to memory cards, rather than film. In fact, the latest memory cards have the capacity to store thousands of high resolution photos. Certainly, the fact that tiny memory cards, less than a few millimeters thick, can hold so much information, is truly astounding. However, the ever-increasing storage capacity of memory cards has served to make some digital photographers quite lazy; many contemporary photographers simply opt to permanently store their treasured photos on memory cards. 
~
While effective, memory cards can be a hazardous choice for permanently protecting and storing digital photographs for several reasons. First, particularly because of their small size, memory cards are easy to loose. Secondly, memory cards can be easily damaged. Rather than storing digital photos on memory cards, it is advisable to consider other more reliable options, and only utilize memory cards as temporary storage devices.
2.  Desktop or Computer Drive Folders:
Creating a folder on your computer desktop, or computer drive labeled "photographs" can be one simple way to store digital photos. Regularly download photos from your digital camera or memory card directly into this folder. It may also be helpful to archive these digital photos into additional dated or categorized sub-folders within your all-inclusive "photographs" folder.
There are two drawbacks to storing digital photographs on a computer desktop or hard drive. First, high resolution photographs can take up a significant amount of memory on a computer, and can eventually slow down the working speed of a computer. Secondly, computers are not guaranteed to work perfectly forever; they can crash or suffer virus attacks at any time.
The best way to avoid these catastrophes to store only a small percentage of photos directly on a computer drive, and to have additional back-up systems for protecting and archiving any treasured photographs.
3.  CDs and DVDs:
The easiest option for backing up digital photographs is a writable CD or DVD-R. As long as your computer contains a CD burner, you will be able to copy entire folders of digital photos, and paste or burn them onto a blank CD. Be sure to label your CD's; ideally with a black permanent or sharpie marker. Then, store your CDs or DVDs in protective envelopes,and labeled boxes in a cool, dry and dark location.
4.  External Hard Drives:
External hard drives are another great option for backing up and storing digital photographs, in addition to many other types of computer files. An external hard drive is a compact hard disk drive that can be plugged into a computer with a USB cable. A wide variety of external hard drives ranging in storage capacity, are available at most computer, technology or electronics stores.
5.  Internet-Based Photo Storage:
Last but certainly not least, internet-based file upload services and online archiving systems are quickly becoming the wave of the future. Online providers such as Flicker.com, Snapfish.com, and MyPhotoAlbum.com are just a few examples of free online digital photo storage options.  
In addition to storing and archiving digital photos for free, these online service providers offer reasonably priced options for printing or designing unique, personalized products from digital photos. Simply select which photos you wish to use, and peruse many creative options for designing your own calendars, photo albums, t-shirts, personalized coffee mugs, key chains, scrapbooks, ornaments, jigsaw puzzles, mouse pads, wine bottle labels, even jewelry and novelty photo gifts.
Ultimately, technology experts agree, its always wise to use more than one backup method for protecting and storing digital photographs. Computers can crash, DVDs and CDs can get scratched or broken. Memory cards can get lost. While it may require significant time and effort to set up multiple back up sources or methods, in the long run, it will be worth it to know that your priceless memories will be preserved for years to come.
References:
HP.com: Tips on storing your photos
Photography.com: Storing Digital Photos
Popular Savings Offers