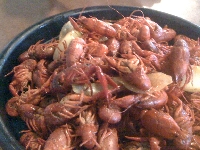 Famous seafood recipes: flavors, seasonings and regional specialties
Human beings have been harvesting the blue waters of planet earth since ancient – even prehistoric – times. The earliest human communities were fishing villages built around rivers, lakes and ocean shores. 
Modern research and science have confirmed that seafood possesses great nutritional benefits.  The essential oils contained in seafood; omega-3 fatty acids, eicosapentaenoic acid (EPA) and docosahexaenoic acid (DHA) are unique and valuable dietary supplements.
In fact, medical experts recommend that eating fresh seafood just once a week can improve your health by preventing cancer, heart disease, and Alzheimer's and lowering blood pressure. It seems that prehistoric peoples recognized the value of seafood long, long ago.  
Today, the trend toward purchasing and consuming local produce and regional seafood is a part of broader sustainability movement sweeping the nation. This may help to explain the rising popularity of versatile seafood flavors and regional seafood seasoning recipes.
Whether you are up north enjoying Maine Lobster Rolls, down south in the Bayou stirring up a Cajun-creole style Jambalaya, on the west coast savoring fresh sushi, or on the Chesapeake Bay steaming those famous Blue Crabs, it's clear that regional seafood seasoning recipes serve to identify geographic areas, celebrate cultural traditions, and embellish local produce.
~
Any chef or seafood lover looking to explore flavors and specialties across the country will certainly savor these two famous regional seafood seasoning recipes.
Regional Seafood Seasoning Recipes
Chesapeake Bay Steamed Blue Crabs:
Fill a crab steamer with 1 part water and 1 part apple cider vinegar. When the mixture come to a rolling boil, add your live, hard shell blue crabs to the pot. Generously sprinkle the crabs with dry seasoning, ideally Old Bay Seasoning.
Cover the pot for 10 to 15 minutes, until significant steam begins to escape from under the lid. Uncover the pot, and cook for an additional 20-30 minutes, or until the crabs turn from blueish, greenish, gray to a bright orange color.
After removing crabs from the steamer, place them to cool on a large platter and sprinkle with an even mixture of Old Bay Seasoning Mix and course sea salt.
Fun Fact:  Old Bay Seasoning, traditionally used to flavor Chesapeake Bay Blue Crabs, was invented in 1939 by Gustav Brunn, a German Immigrant who settled in Baltimore, Maryland near the Chesapeake Bay.  
Ingredients in Old Bay Seasoning:
1 Tbsp. Celery Salt
1/4 tsp. Paprika
1/8 tsp. Black Pepper
1/8 tsp. Cayenne Pepper
Pinch Ground Dry Mustard
Pinch Mace
Pinch Cinnamon
Pinch Cardamom
Pinch Allspice
Pinch Ground Clove
Pinch Ginger
Creole/Cajun Crawfish, Shrimp and Crab Boil Seasonings:
Down on the Louisiana Bayou, this seasoning recipe was nicknamed "Zatarain's". It's easy to make your own Zatarain's by combining these ingredients:
Ingredients in Zatarain's Cajun Seasoning:
4 tablespoons yellow mustard seeds
3 tablespoons coriander seeds
2 tablespoons whole allspice
2 tablespoons dill seeds
1 teaspoon whole cloves
1 tablespoon crushed red pepper
8 bay leaves
Salt and cayenne pepper (or liquid hot sauce) to taste
Typically, these dry ingredients were combined into a sachet or cheesecloth, and tied securely with a piece of string. The sachet was then added, along with salt and cayenne or hot sauce, to a pot of boiling water.
As the sachet of spices soaked and flavored and tinted the boiling water, vegetables and shellfish, and other seafood could be added.
Resources:
Chowhound: When is Seafood in Season?
Video: How to season seafood with rubs and marinades